Daily Mail
It is perhaps the most iconic ship of all time, but the closest most people will get to the Titanic is a visit to the museum in Belfast, or a viewing of the Leonardo DiCaprio and Kate Winslet blockbuster.
Not so for those with endless funds. One company is offering the chance to dive 12,500ft below the surface of the sea to explore the ship at the bottom of the Atlantic.
The tour takes in sights like the famous grand staircase, the ship's huge anchors and the Marconi Room, from which the world's very first SOS was broadcast.
The once-in-a-lifetime privilege is being offered by luxury concierge service, Bluefish, and does not come cheap, setting you back a whopping £41,000 ($60,000).
The hefty price may seem like a lot but more than 40 people have so far booked the trip to the Atlantic Ocean depths.
Director of Bluefish, Steve Sims said: 'We have sent over 40 people down and they have been housewives to technology billionaires, the Titanic really does capture the minds of a wide crowd.
'Bluefish is known for providing the amazing and rare and the Titanic fits both those criteria.
'More people have been into space than set eyes on the Titanic.'
Guests will stay aboard the Akademik Keldysh ship at sea and wait for suitable conditions to see the Titanic up close.
The transport to the ocean floor is a MIR I or II submersible which are capable of reaching ocean depths of 20,000 ft (98 per cent of the ocean floor worldwide) and withstanding intense pressure.
The submersible is constructed of nickel steel and can hold one pilot and two passengers, providing a personal encounter of the vessel.
The unique dive takes 11 or 12 hours in total and once you reach the ocean floor powerful lights let you see the main features of ship.
As well as this divers can spot harrowing personal items such as shoes or bags caught between the metal rust, which serve as a poignant reminder of the tragic human loss.
Not only does the trip offer a truly unique ocean expedition, but it also offers the chance to learn about the majestic vessel in depth.
You will take part in a series of lectures and briefings, revealing latest findings about the 269 meter-long liner.
There will also be a ceremony commemorating the tragic events and remembering all those who lost their lives on April 14, 1912.
Meals, accommodation and personal video are also included in the somewhat hefty price tag.
The RV Keldysh and MIRs have made over 15 expeditions to the site of the wreck and have made over a hundred dives.
The unique dive takes 11 or 12 hours in total and once you reach the ocean floor powerful lights let you see the main features of ship
The aim of the dives is not just tourism, but also obtaining imagery from the site, data and physical samples from the wreck to further research and be used in ongoing scientific experiments being conducted by worldwide scientists
Since Deep Ocean Expeditions began dives to the wreck in 1998 no artifacts have been removed from the site
However it hasn't been plain sailing for Bluefish trips to see the famous ship. Only eight people took the voyage between 2002 and 2006 and after the recession put a strain on luxury spending.
'The recession hit and everything went to pot,' Simms told CNN Money.
Now the service has picked back up and guests can experience the whole package, or opt to have everything apart from the dive to the wreck, for £6,820 ($10,000).
The bespoke concierge service offers a range of elaborate services, besides the Titanic expedition.
Whether it is racing half a million dollars Mercedes in the Mojave Desert, a Virgin Galactic flight into space, or having a James Bond experience in Monaco with Bond girls and being rescued by American Navy Seals, Simms sees no challenge as impossible for the right clients.
The luxury does not come cheap, with membership to the club being £3,414 ($5,000) per annum before you have forked out for any experience.
Chief Executive
NextShark
Many of us long to have a career whose every single moment is enjoyable. After all, making it in life is not really about just making tons of money, but about having a job that doesn't feel like a job. Based on our research, it's safe to say entrepreneur Steve Sims' job fits in this category.
Steve Sims is the founder of Bluefish, an exclusive luxury concierge service for the elite. His daily life includes helping clients craft experiences the have included: a live underwater tour of the Titanic, a flight to space, red carpet events and supersonic military jet flights in Russia.
Anyone who wants to use Steve Sims' service needs to go through a strict application process, and once they're approved, the annual fee to stay active is $5,000. While Steve never names his clients, he's been spotted with celebrities like Sting and Andrea Bocelli and business moguls like Elon Musk, Donald Trump and Richard Branson.
Read more at NextShark
NPR
A Surge In Concierge
Steve Sims is the founder of Bluefish, a luxury concierge service that takes care of rich people. As Steve posted on Reddit recently: "We've arranged everything from supersonic military jet flights in Russia, submersible dives in the Atlantic Ocean to view the Titanic, sunsets in the Serengeti, deep-sea dives with great whites, performing with rock stars, to flights into space for our clients."
In an interview with NPR, he says he also was asked to procure a giraffe.
Steve's services can be pricey — CNN reports that he charged $60,000 for a Titanic viewing experience.
As a high-end concierge, he deals with a lot of wealthy wanters. NPR asked him how he handles an abusive client. "Inform them that's not how it works," he says. "It's a relationship like any other."
What would you be doing if you were not in the concierge business? "Getting in trouble," he says. "I was always nosey."
And what is the secret to being a good concierge? "Keeping your word," he says.
Help Desk
Nevermind do-it-yourselfism, the Concierge Movement seems to be taking over the world. For folks willing to pay more sometimes, financial institutions advertise concierge banking services — including home visits. Doctors offer concierge medicine. Attorneys are turning to concierge legal counsel. With enough money, you can procure the concierge services of agents in insurance, real estate, travel, you name it.
The Internet offers all kinds of assistance: Collaborative filtering — "if you like this, then you will like that" — enables many sites to offer concierge services based on others' preferences. And there are online concerns that use human concierges, such as Keaton Row — where you can apply to be a style concierge or you can use the services of one.
Nearly everywhere you look for nearly anything you want, a concierge is there to assist you.
So to help me write this story, I sought the counsel of, whom else — a couple of concierges. Steve Sims and …
The Art Of Listening
Donna "GiGi" LaRossa has been a concierge at the Ashland Springs Hotel in Ashland, Ore., for almost five years. She says she has not had many outrageous requests, but a group of Russian osteopaths staying at the hotel wanted to "eat fish at Fish Lake."
GiGi tried to make it happen, but the Fish Lake resort was closed for the winter. So she arranged for the group to eat steak near the lake instead. "All thumbs up on the return," she says.
The secret to being a good concierge, she says, is "having this wonderful passion for sharing and educating."
Being proactive and creative is essential, she says. And paying attention to detail and providing unique ideas.
Listening, she adds, is "huge."
To view the whole article, you can go to: http://www.npr.org/blogs/theprotojournalist/2014/07/11/328131539/a-surge-in-concierges
By Linton Weeks, July 11, 2014: 11:11 AM ET
CNN Money
Performing with rock stars, exploring the depths of the ocean floor, piloting fighter jets — if the rich can dream it up, luxury concierges can make it happen.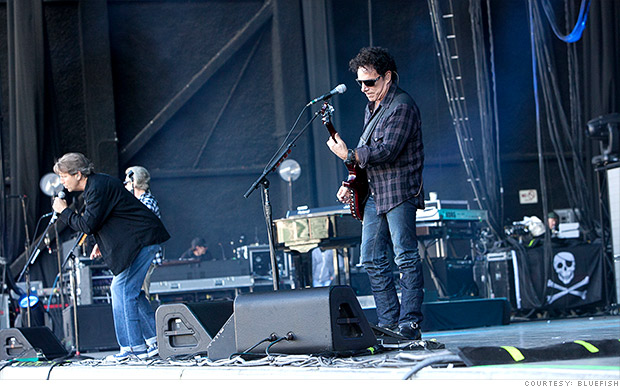 Companies like Bluefish, a Los Angeles-based concierge service that caters to super rich entrepreneurs, are in the business of making fantasies come true — for those who can shell out thousands of dollars a year.
The group, which has about 400 members, said it has gotten clients on stage to sing with Journey, into a submarine for a trip to the Titanic and on fighter jets for laser dogfights over the Mojave Desert.
"Someone said to me once that we make the Wizard of Oz look like an amateur," said Steve Sims, founder of Bluefish. "I can't believe the stuff we do."
Concierge services like Bluefish have cropped up across the globe to help the 1% book business travel, score hard-to-get reservations or concert tickets, and plan extravagant parties with celebrity guests. The client doesn't have to lift a finger, make a call or scour the internet.
But all this convenience and access comes at a price. Membership fees range from a few thousand dollars to nearly six figures a year for a family.
Bluefish charges a $5,000 annual membership fee, plus an additional commission on what a client books.
Fees to join Montreal-based service Pure Entertainment Group start at $12,000 per person for more basic perks and go up to $65,000 per couple per year.The fees cover the cost of airport transportation, three weekend getaways, and preferred rates for hotels and airfare. On top of that, members pay a 5% to 7% commission for whatever private jet or tickets they book through the concierge, according to CEO Steve Edo. Nonmembers can also use the basic concierge service, but pay commissions of 15% to 20%.
The group has about 100 members, and many of the memberships also include personalization of services — phone calls on birthdays and anniversaries, tailoring a vacation's reservations based on a client's preferences.
While concierge membership fees and benefits fall on a wide spectrum, they all aim to offer one-of-a-kind experiences and service.
Take, for example, the five-day-long 35th birthday party Edo is helping plan for a client and 15 of his friends.
The birthday boy asked Edo to book a Boeing business jet for 4 hours — at a cost of $110,000 — to fly around aimlessly while a DJ plays and the attendees party on board. The client doesn't want go anywhere — just take off and land in Las Vegas. Edo calls it one of his stranger requests.
The client wanted to pay extra to fly in famed DJs from Europe, but Edo talked him out of it, convincing him to book a more local famous DJ for only a five-figure fee.
"We want to help him do something unique, but at the same time, we have to be reasonable," he said. "I told him if he wants to burn his money on something, I can show him a better way than that."
All told, with the cost of the plane, the DJ and hotel suites, Edo said the trip will cost hundreds of thousands of dollars, while the concierge service receives a five-figure commission.
But at least the client planned in advance — the company charges an additional fee for last-minute requests.
To view the whole article, you can go to: http://money.cnn.com/2014/06/01/luxury/luxury-concierge/index.html
By Emily Jane Fox  @emilyjanefox June 1, 2014: 3:19 PM ET
Worth by Robb Report
The ultimate concierge can make (most) Fantasies come true. Many of us fantasize of secret lives brimming with excitement, danger and romance. The job of Bluefish Concierge is to make these dreams come true.
Centurion Magazine Online
Seeing this rust-draped bow requires taking one of the most exclusive journeys in the world, on board one of the most sophisticated vessels in existence, to a site that only a select number of people will ever visit. Since its infamous 1912 brush with an iceberg, the RMS Titanic has been buried by four kilometres of frigid ocean and only seen live by a few hundred people, most of them scientists or researchers – and of course film director James Cameron. With the 100th anniversary of one of the world's deadliest peacetime maritime tragedies next year, there's no better time to brave the icy Atlantic's murky depths and see the storied ship's eternal grave first-hand.

Though not the only agency offering deep sea dives to the Titanic wreckage, we recommend Bluefish for their specialisation in catering to a discerning clientele.

Through Bluefish, you can book a two-week voyage aboard the Russian Akedemik Keldysh, reportedly the best vessel for supporting deep sea diving expeditions. Upon embarking from St. John's, Newfoundland, passengers are provided with first-class meals and modest yet spacious lodging, plus recreational and informative programs, like lectures, briefings and films. A library stocked with deep sea exploration literature and a number of laboratories can further satiate a thirsty mind as you make your way to the site of the sinking.The dives begin at about day four, each dive lasting about 11 to 12 hours. Once on board the MIR I or II – two of the only five submersibles on earth that can reach the depths of the Titanic's resting place – a maximum of one pilot and two passengers will be lowered to the ocean floor at a speed of 31 metres per minute, for a total descent time of two hours. Eight minutes into the dive you'll have already passed the depth that sunlight no longer reaches, immersing you in total darkness, and for the sake for saving energy the craft descends without external lights. Though every now and then the pilot will switch them on for a glimpse of marine life, for the most part bioluminescent sea creatures will be the only scenery – better hope your sub-mates are entertaining! It's also advisable to dress warmly, because cabin temperatures drop as outside water pressure rises massively.It might sound like a gruelling descent, but the sight that awaits patient divers is more than rewarding. You'll come within arm's length of the propellers, the bridge, the capstans and the giant anchors larger than your submersible. You'll see the monstrous boilers, the ship's telemotor and the Marconi Room where the famous SOS was dispatched. Even the legendary grand staircase is on the tour. Attentive divers may even catch a haunting sight of shoes or bags that once belonged to ill-fated passengers.

Informative briefings, precautionary measures and the nickel steel bodies of the MIR submersibles remove many safety risks, but the dive to Titanic is not totally without its dangers. Keeping your hands and feet inside the vehicle at all times has never been more expedient, for example, as the human body was not made to handle the 2.7 tons of water pressure per square inch crushing against your submersible. Moreover, due to the duration of the dive and limited access to first aid during it, individuals with certain medical or psychiatric conditions such as diabetes mellitus, cardiovascular diseases, anxiety disorders and severe asthma should not attempt it. It's a good idea to talk to a doctor and the tour operator before making reservations.

The tour through Bluefish takes a respectful approach, disturbing as little as possible and taking nothing from the site, but other visitors have not been so gentle. Because of careless human activity and rampant iron-eating microbes slowly devouring Titanic's centenarian frame, the wreckage has deteriorated rapidly since its 1986 discovery: the forward mast has fallen, the crow's nest is gone and the poop deck has buckled in on itself. According to experts, Titanic might very well collapse onto the ocean floor within the next 50 years, and if they're right, we may be among the last generations with the chance to fully experience her tragic, ghostly splendour.





Visit Project
Harvard
Taking Measured Steps to Bolster Luxury Brands – Harvard
By Nancy Brumback
BOSTON — Careful and controlled brand extension is the best way for luxury houses to further leverage brand equity, executives from several such companies told their potential successors.
Speaking at a daylong conference on luxe product and retailing last month at the Harvard Business School, top executives from Jimmy Choo, Tumi, Salvatore Ferragamo USA, Derek Lam and LVMH Moët Hennessy Louis Vuitton outlined plans for new products and stores.
The session, sponsored jointly by the Luxury Goods & Design Business Club and the Retail & Apparel Club at the business school, drew about 300 almost-MBAs, double the attendance from the first such event last year. While twothirds of the students were from Harvard, students from business schools around the Northeast and as far south as Duke attended.


Robert Bensoussan, chief executive of Jimmy Choo, said the iconic shoe company plans to expand into fragrances, eyewear and other accessories and even into jeans, following the successful launch of a handbag line in 2003.
"We don't want Jimmy Choo just to be known as a shoe brand," Bensoussan said in the conference keynote speech, but added brand extensions will be done "very carefully."
He declined to give a timetable for new product additions when asked later.
While Jimmy Choo's sales are about 70 percent shoes and 30 percent handbags in its established markets of the U.K., the U.S., Asia and the rest of Europe, the sales mix is closer to 50-50, he said. Jimmy Choo will have 54 branded stores by the end of the year, up from 36 at the end of last year, and has finally found a location on Rodeo Drive "that we can afford," he said. By the end of 2008, store count, including franchises, will be close to 80 worldwide.
Tumi, the luggage maker, will launch a line of men's performance activewear in July, and a similar line for women in spring 2007, said Wendee Lunt, vice president of global marketing and new business development. The line is being developed jointly with Umbro and will be called Umbro for Tumi. It's aimed at business travelers, with such features as antimicrobial treatment and rapid drying. Lunt told WWD the lines will be offered to department stores and specialty luggage shops, but not sold through athletic apparel retailers.
Tumi also continues to open its own stores. The 50-store retail division will be the company's largest division in volume this year, she said, adding that online sales will account for about 10 percent of its business. Ferragamo has adopted a "very deliberate" strategy of brand extension, said Dana Gers, senior vice president of marketing at Ferragamo USA. A new line of watches fits the strategy of remaining close to the core product category, she said.
Ferragamo decided not to extend its brand through licensing so it could retain control, she added, noting the extensive licensing agreements done by many large manufacturers have "overexposed" the brands.
Ferragamo is cultivating the next generation of customers with products such as sunglasses and fragrances at prices younger shoppers can afford, but it will not produce lower-priced lines of handbags and shoes just to woo that customer, she said. Derek Lam, meanwhile, plans to expand its branded offering with accessories rather than developing a second, bridge line of women's apparel, noted ceo Jan Schlottmann, who was joined on a panel by founder Derek Lam. Pamela Baxter, president and ceo of LVMH perfumes and cosmetics for North America, described how the company revitalized the Dior fragrance brand in the U.S. by closing about 30 percent of the retail outlets, primarily department stores, that didn't match the fashion image of the apparel brand. Federated Department Stores' acquisition of May Co. has led to some pressure from the retailer for Dior to reenter department stores, "but we are not going to do that," Baxter said, noting the Dior brand will remain at the upper end. "We've reopened at Neiman Marcus and expanded with Saks Fifth Avenue and Nordstrom." The company will support other product lines at the department store level. Bob Lamey, founder and ceo of Shopbop.com, said customers at the trendy Internet site have become older and more sophisticated as the brands carried have moved to higher price points. New York and Los Angeles are its largest markets, which, he said, initially surprised the company since customers in those cities already have retail access to the latest fashions.
New Yorkers, he speculated, don't have time to shop, and Los Angeles is too sprawling. "We try to be the resource for busy people who love fashion." In a final panel on global supply chain strategy, executives from Target, Tiffany & Co., Limited Brands Inc. and New Balance outlined the challenges of overseas sourcing. Stacia Andersen, president of Target Sourcing Services, who is responsible for domestic and international sourcing for Target, noted the mass retailer ultimately aims for half of its sales to be its own brands, sourced through TSS. "We are close to that in softlines and apparel, and more like 25 percent in home goods," she said. Remarking on the luxury goods part of the conference, Andersen commented that, at Target, "as the luxury lifestyle reaches the mass market, we are benchmarking ourselves to continued elevation of our brands and products." Gers of Ferragamo encouraged the business school students to go into the luxury goods and retail industries, noting a change from designer-based or family-owned businesses to "large companies in need of management skills." But she acknowledged these industries still lag behind others in compensation. "There's very little money, but it's a fun business — and sometimes you get a clothing allowance and great discounts on shoes."
But some students might have a more unorthodox business plan in mind. The speaker who drew the most interest after the panel presentations was Steve Sims, quirky founder and ceo of Bluefish Concierge, a company that specializes in getting wealthy clients into prestigious parties and events to which they have not been invited.
CNNMoney
NEW YORK (CNNMoney) — Everyone is familiar with the story, but very few are able to see the Titanic in real life — unless they can shell out $60,000.
Bluefish, a luxury concierge firm based in Los Angeles, first offered an expedition to the Titanic site at the bottom of the North Atlantic Sea to its private clients in 2002.
The firm took only eight people to the site between 2002 and 2006. And after the recession put a stranglehold on luxury spending, Bluefish took an economy-induced hiatus.
"The recession hit and everything went to pot," said Steve Sims, the concierge firm's founder.
As the recovery slowly gains steam, trips to the Titanic are back on and Bluefish is now accepting bookings for 2012.
The $59,680 tab secures a seat on a deep-sea submersible that takes you to the shipwreck, as well as lectures, briefings, meals and accommodations at the port of departure and on board the Akademik Keldysh ship, owned and operated by the Shirshov Institute of Oceanology in Moscow. (Airfare, taxes or fees are not included.)
A total of 20 paid spots are available, which will offset the cost of the Shirshov Institute's scientific research. The firm has already received over 300 "serious inquiries," Sims said. Four trips to the location where the Titanic sank on April 15, 1912 have been sold so far.
Those adventure seekers will fly to Newfoundland and spend several days at sea. When the weather and sea conditions look good, divers can visit the wreck site — 12,465 feet down — in submersibles. Each battery-operated submersible holds just one pilot and two passengers for an 11- to 12-hour trip.
With the help of the submersible's external lights, divers can then see the Titanic's anchors, capstans, boilers, propellers and famous grand staircase in addition to possibly even a few undisturbed personal articles like bags or ladies shoes, according to Bluefish.
But forget finding a souvenir. Every dive collects data — not artifacts.
For those who just want to stay above the surface, and forgo a deep sea dive, the cost is $10,000 to tag along.
Other extreme and costly Bluefish experiences include a $200,000 seat on the Virgin Galactic flight into space as well as treks to the North Pole and shark diving.
"Our experiences are endless and only based on our imagination and your checkbook," Sims said.
Bluefish + Jaguar = Platinum Access
As you know, Bluefish only rubs shoulders with the best of the best – and our new partnership with Jaguar is no exception.
Introducing Jaguar Platinum Access, an exclusive owner privileges program that is as tailored to Jaguar owners as the stunning new XJ itself.
Just as Bluefish members can access the most exclusive events and one-of-a-kind experiences, Jaguar Platinum Access members are granted exclusive access to lavish hotel and resort upgrades,  on top airlines, offers from high-end designers, and many other benefits from world-class luxury brands – including customized Bluefish experiences available only to Jaguar Platinum Access members.
But Jaguar Platinum Access isn't for just anyone. These extraordinary privileges are only available to those who purchase or lease a new 2011 Jaguar XF, XJ or XK by February 28, 2011. As many of you already know, however, owning a Jaguar is a privilege in itself.
To see a complete list of partner offers and member privileges, visit www.JaguarPlatinumAccess.com
Marie Claire Australia
From the VIPs to the wannabes, it's a weird old world behind the tinted windows and velvet ropes. We asked some industry gatekeepers for the inside scoop.
The Dream-Maker
Steve Sims is the CEO of luxury concierge company Bluefish.
"People will tell you that money can't buy everything. It's not true. In my world, everything can be bought. Sometimes the price tag could send your average bloke into cardiac arrest, but, what I do isn't really for the average bloke. I run Bluefish, a luxury concierge company designed for the rich and famous. When people ask me what I do for a living, I tell them I make dreams come true. If that makes me sound like an ass, then I'm an ass. We've worked with plenty of bold-faced names – Donald Trump, the Hiltons, the cast of Ocean's Eleven and Pamela Anderson. But the most extravagant things I do are for people you've never heard of, whose money comes from overseas – places like Russia, the Middle East and North Africa. I've taken people down to see the Titanic. I've gotten them into every awards show you can imagine, from the Oscars to the Adult Video [News] Awards. I once had a guy call me to tell me he wanted to throw a party at the castle from Harry Potter. I told him that particular castle was animated, but that I could do him one better.
"I learnt a long time ago that the guys with money almost never actually look rich. The guy who comes into my office looking like he's just been surfing, he's got real cash. If he comes in wearing some slick silver tie, I'm worried. Too much artifice. It's like, if you go to a Ferrari dealership on a Saturday. The guy who got dressed up to go car shopping, who is in a suit and tie, he' have to sell his house to buy that car. The guy who is there in jeans and a polo shirt could probably buy the dealership 10 times over.
"For celebrity clients, mostly they pay for privacy. If Matt Damon wants to catch up with a friend at a pub, without the entire room staring at him and asking him for autographs, I can make that happen. It's insane how much coordination something that simple takes for a guy like Matt. I've been asked to do a reality show about my business before and I said 'no way'. I've seen what fame is like, and it's a pain in the ass. Mostly, though, the celebrities are pretty nice. I fixed up another Ocean's cast member – one whose last name rhymes with Mooney – with the Ferrari paddock at the Monaco Grand Prix. When I went to pick him up, he offered me coffee and a Nutella sandwich. Now, I don't even like Nutella, but I'm not going to refuse anything from that guy, you know?
"Of course, I get asked to do illegal stuff. There're the usual late night texts asking for girls. Or from some guy who has had a few and is looking for something to stuff up his nose to keep the night going. I have a one-strike policy. You ask me to break the law once, we remind you that's not what you pay us for. You ask us twice, you're out of the club. We actually do provide girls, but not for the reason you think. If I've got a guy who wants to get into the hottest club in New York, there's no way he's getting past the velvet ropes on his own. So when I book a bottle-service table for him, I am also going to arrange for a collection of gorgeous women to be on his arm. These women aren't prostitutes. Mostly, we use promotional models. I'm talking about women who make millions of dollars a year travelling around to different yacht and watch shows, modelling the wares. They are used to talking to clients and buyers and, as such, are well-mannered and good conversationalists.
"In all my years, I can't think of one request I haven't been able to fulfil. Some people are easier to crack than others. If you want to meet a politician, that's easier than opening a McDonald's front door. A politician has a temporary position. The second they get into office, they're planning their escape to some board position for a Fortune 500 company. As long as I can offer them something that gets them closer to the front door, I'm golden. If you wanted to have a slumber party at the White House with the Obama girls? I could do that. I'm not saying it would be easy, just that it would be possible."
Luxury Comes to Harvard
On March 28th, 2007, over 275 participants gathered to hear a diverse set of perspectives on topics ranging from online retailing to the customer experience during the 3rd Annual Retail and Luxury Goods Conference.
With gift bags filled with goodies from sponsors such as Elie Tahari, J. Crew, and Bliss, retail and luxury enthusiasts eagerly filled Spangler auditorium to hear the keynote speech of Caryn Lerner, President and CEO of Holt Renfrew & Co., Canada's answer to Neiman Marcus.
Lerner began, "Some trends are hit or miss, but a Harvard degree looks good on anybody." As she chronicled her career, Lerner credited her father for always pushing her towards a path of excellence and as a major contributor to her success in the world of business. Beginning her career as a struggling actress, she eschewed a position at Yale Law in order to take on a role in the executive training program at Bloomingdale's, where she spent the next ten years of her career. She worked up organizations such as QVC and Escada USA, and took a calculated risk when she recently uprooted her family to move to Canada to take on new successes at Holt Renfrew. Lerner has led important changes in re-branding the franchise by putting it at the forefront of fashion by mixing established and emerging brands and improving customer experience through an extensive $60 million re-modeling of their stores. Questions from the audience touched on important points from green initiatives in the retail industry, which is a concern on many retailer's radars, to how to provide compelling incentives for employees.
"We focused on expanding the panels this year to shed some light on the broad spectrum of management issues that affect the retail and luxury goods industries," said Alexis DePree of the Retail and Apparel Club. With over 27 speakers and panels on Online Retailing, Private Equity and Retail, The Customer Experience, Luxury Brands, Brand Reinvention and Turnaround, and Beauty and Fragrance, Aldrich was bustling with activity.
Gail Zauder of elixirAdvisors moderated the panel on private equity, which offered an investor's perspective of the retail sector. Discussing the current resurgence of private equity investment in retail, Colin Welch, Head of European Investment Banking at Lehman Brothers, emphasized that retail is the one area of the economy where you can track your results every week, making it a challenging environment in which to operate. John Tudor, Principal at Bain Capital remarked that private equity investors look for industries that have stable cash flow and due to factors such as the sustained period of consumption growth in the US in recent years, fast and efficient sourcing from China, and the increased use of technology in managing inventory has transformed the industry from a volatile cash flow sector to a place for attractive investment.
The Luxury Goods panel touched on a variety of different topics, such as the definition of luxury, the most commercially successful luxury brand, and an in-depth evaluation the concept of mass marketers expanding by partnering with luxury designers. While Olivier Cardon, President of Roche Bobois North America was skeptical of such agreements, citing the over-licensing of certain luxury brands in the 70s and 80s, such as Pierre Cardin, others such as Imran Amed, Founder and CEO of Byesse, a retail investment firm, cited successful collaborations between parties such as Viktor & Rolfe and H&M to show how both brands can benefit. Founder and CEO Peter Som offered an entrepreneur's perspective on the debate by observing that the market is over-saturated with the "high-low" phenomenon and remarked that while it was successful for forerunner Isaac Mizrahi with Target, it is no longer a way to differentiate a brand. Instead, he noted, there are other complementary partnerships that can help to build a brand such as a NYC luxury condo project he recently completed.
Another topic of controversy centered on how to harness the power of "Web 2.0″ to benefit the luxury industry. Ahmed, also the author of a blog on fashion, explained that many consumer buying decisions are being made on the internet, and as a result, luxury retailers should have a stronger web presence. However, Roberto Vedovetto, Chairman of European Luxury Goods at Lehman Brothers, said although there have been success stories, such as that of online retailer, net-a-porter, it is still too soon to tell whether the web will be a strong force in the luxury goods market.
In the panel on brand reinvention, Margot Brunelle, VP of Brand Marketing and Public Relations at J. Crew, spoke of her company's strategy to focus on the "price-quality relationship" by obtaining materials from the best sources, such as cashmere from the Loro Piana mills and Italian leather for J. Crew accessories. Yonni Mrejen, VP of Retail operations at Lacoste, summed up his firm's strategy as looking beyond the "crocodile" and trying to re-position the brand as more of a lifestyle brand that encompasses a wider spectrum of ready-to-wear and accessories. Kimberly Jetnil, VP of Wholesale Sales at Escada USA, said that their approach is to have 70% of their offerings reserved to appeal to their core audience of loyal customers while 30% is devoted to attracting new potential customers that could become loyal customers in 10-15 years.
Over lunch and chocolate mousse martinis in the Williams Room, the keynote panel, consisting of executives from TJX Companies, Loro Piana, and Neiman Marcus Direct, touched on job opportunities for MBA graduates in the retail sector. When asked where MBA graduates should start in order to launch a successful career in retail, many of the panelists agreed that it is important to begin at the Assistant Buyer level, since the retail industry requires one to start at the bottom in order to get to the top. Miguel Simoes (NB) observed, "I thought it was interesting that they said that people need to adjust their career expectations if they want to fit the retail industry. Perhaps they should think of adjusting theirs regarding who they can aspire to recruit."
Courtney Shaver (Partner NE) said that "Overall, I thought it was a really enriching conference. It made me think about brands in a totally different way and I liked that panelists were not afraid to disagree."
Forbes
Bluefish Goes to the Races

LOUISVILLE, Ky., March 29 /PRNewswire/
– Bluefish Concierge has been announced as the official concierge of the 2005-2007 Kentucky Derby. The partnership with Churchill Downs allows Bluefish to offer its clients the ultimate Kentucky Derby experience. From seats in the famed Millionaires Row to a private backstretch tour, Bluefish and the Kentucky Derby were made for each other! "Churchill Downs is proud to welcome Bluefish Concierge as the official VIP concierge of the Kentucky Derby through the 133rd running in 2007. We look forward to working with such a prestigious and experienced concierge services company and hope to grow and continue our relationship," said Andy Skehan, COO, Churchill Downs.
Bluefish Concierge offers the highest level of travel, transportation and entertainment-related services to discerning individuals worldwide. From granting access to the world's top events to providing private flights and booking luxury accommodations in every city around the world, Bluefish does it all! The company also excels at arranging unique experiences available nowhere else. Steve Sims, President and CEO of Bluefish Concierge, commented, "Through our Partnership with Churchill Downs, Bluefish clients will see the Kentucky Derby as they never have before! We are proud to be involved in one of the world's most anticipated sporting events on the planet."
About Bluefish Concierge:
Bluefish Concierge's commitment to offering the highest level of personalized travel, transportation and entertainment-related services has made Bluefish a one-stop shop for corporate executives, celebrities, professional athletes and other discerning individuals interested in living life to its fullest. The company also excels at arranging outrageous experiences. They have sent clients in a submarine to see the remains of the Titanic, provided exclusive access to the Grammys and New York Fashion Week and arranged fighter jet flights over Moscow.
In 2004, the company was named the official concierge service to such high- profile events as the Grammys and the L.A. and New York Fashion Weeks. Also in 2004, Bluefish was named the "Ultimate Concierge" by the Fine Living Network.
About Churchill Downs:
Churchill Downs, the world's most legendary racetrack, has conducted Thoroughbred racing and presented America's greatest race, the Kentucky Derby, continuously since 1875. Information about Churchill Downs can be found on the Internet at http://www.churchilldowns.com
The Hollywood Reporter
Luxury travel 
Behind the velvet ropes with L.A.'s must-know concierges and maitre d's
By Alene Dawson
Sept 17, 2009, 07:24 PM ET
Don't name drop.
That might be unheard of in a town like Los Angeles, but the city's top gatekeepers — the maitre d's and concierges who flip the most sought-after tables in town, secure coveted after-afterparty invites, and make clients' wildest dreams (the legal ones) come true — say it's so if you want them to hand you the keys to the city. Especially during Emmy weekend.
Why no name dropping?
"Because, typically, if a celebrity or a well-known person wants to help a friend, they pick up the phone and call themselves. We've been there long enough to know who's who and we know who's friends with whom," says Craig Susser, the maitre d' at Dan Tana's in West Hollywood.
He's worked at the Italian eatery — one of the toughest reservations in town — for 21 years and has been maitre d' for seven. The competition for Dan Tana's 18 tables is fierce and Susser makes no apologies for taking care of regulars, but says it's not difficult to become one.
"It's a relationship," Susser says. "When I see you three days a week, then I'll do the same for you."
Regulars include George Clooney, Sumner Redstone, Leonardo DiCaprio and Clint Eastwood.
Although regulars are very respectful (even they have to wait sometimes), Susser admits that it's not always easy to make everyone happy.
Chris Denton, Mr. Chow's maitre d', keeps a little reference library underneath his desk that tells him all the agents, directors, producers and executives in town. So don't try to pull a fast one on him. "If I'm wondering about someone, I can find out very easily. We look them up or make a call. I'm very keen on finding out who these people are and where they rank and how I should deal with them."
His due diligence seems to pay off: "Chris seems to have a savant-like telepathy that enables him to create the most comfortable environment for all of the regulars that enjoy Mr. Chow," says regular Brian Grazer.
A tip for those regulars' assistants from Dan Tana's Susser: Don't call and say, "If I don't get this table I'm going to get fired." He hears it all the time.
Dimitri Dimitrov has also seen it all as a maitre d' for the past 20 years and at the Tower Bar at the Sunset Tower Hotel for five. "It's hard work, and you may not get home until 4 in the morning — and I'm tired. But then the blend of people here — it could be Brad Grey at a table, Johnny Depp at another table and then Sean Penn passes by — and it may all happen in one night and wow! It's this amazing atmosphere and this amazing, successful, magical night. I don't care how much I made, it's just about being part of this community."
He says that bold-faced names feel comfortable at the Sunset Tower because "secrecy is really the key. We're really into privacy. If celebrities want to have a second, third glass of wine, they can have it. It's not a place for them to be exposed." Up to 90% of their reservations are under pseudonyms.
Former stockbroker (and self-described "cocky, bald-headed, tattooed, arrogant East London boy") Steve Sims, owner of Bluefish Concierge, got his first clients by going to parties and hotspots and meeting people who didn't know how to get into other parties. He helped them get in. He started Bluefish in 1997 and has had a Los Angeles office for two years.
His business sees a 20% increase during awards season. He gets his clients into the ceremonies and afterparties: "They'll always have space; they just want the right people."
But if you're an up-and-coming actor, producer, director or a photo hound planning to pay Sims to sit next to someone: Don't bother. "We won't do that."
During awards season, East gets a lot of international clients who come to Los Angeles and are very interested in meeting people and networking. "We can get them into the shows but very often the afterparties are as important as the awards themselves," the company's Rebecca East says.
The Peninsula Beverly Hills' chief concierge, James Little, experiences a prominent ramp-up of requests for hairstylists, make-up artists and last-minute tailoring and couture requests during awards season.
"We have a seamstress on staff during award season," he says. "There's also a lot of last-minute rides over to Jimmy Choo, Neiman Marcus and Chanel, and signing for last-minute jewelry and making sure it's secure until the celebrity can get it." The staff can fasten a bow tie and the engineers know how to fix a shoe.
As thrilling as awards season can be, many of the gatekeepers are nostalgic for the bygone ways of Hollywood.
Maitre d' Pamela Gonyeas has been at mainstay the Grill for eight and a half years. Despite the big agencies moving to Century City, the restaurant is still packed, but "people are coming in and out quicker. People are now all business where they used to be more leisurely. Martini lunches? You just don't see that as much."
But Mr. Chow's Denton maintains he loves this business because every night is different. "You never get bored. Restaurants aren't like theater. They are theater. Every night is a different performance."
And the curtain couldn't close each night without the surefire bizarre and odd customer requests.
Little of the Peninsula's oddest request received: "One guest wanted to arrange that his friend, who just had a wild bachelor party in Australia, be picked up from the airport with a limousine filled with rabbits and Red Bull."
No problem.
The Four Seasons' concierge desks are deluged with requests, even from people who aren't hotel guests, in part, thanks to Oprah. "She said on her show, 'If you're ever stuck, just call the concierge at the Four Seasons.' We were inundated," says Charles Hawkins, concierge at the Four Seasons Beverly Wilshire.
The key to maintaining the keys to the city, says Susser: "Even if you say 'no,' it's how you say no."
CNN Travel
CNN Travel
A concierge for once-in-a-lifetime trips  Florida (AP)
– Gina Pellini wanted to arrange something outrageous for her husband's birthday, so she called a company that specializes in over-the-top surprises.
Her contact at Bluefish, a luxury concierge firm that plans trips for the rich, famous and adventurous, rattled off ideas: Pellini's husband could take a ride in a supersonic jet over the mountains and coastline of Cape Town, South Africa. Or he could take a MiG-25 from Russia to the edge of space, traveling at more than 2-1/2 times the speed of sound. He could even take a flight lesson from a professional fighter pilot and grab the controls of an aerobatic L-39 military jet. Pellini opted for the lesson, and in the three weeks since the big day, she has listened to her husband recount how the jet performed 360-degree flips and broke 3 G's to countless friends. "He has always wanted to do something like that but I never could figure out how to arrange something so out of the ordinary," Pellini said. "He said it was the most amazing thing you ever felt, like your face is going to fall off." 
Bluefish will arrange just about anything a client can dream up, and if the client's dreams are a bit hazy, they'll fill in the details.
Owner Steve Sims and his team can put you in a submarine to explore the Titanic, or in scuba gear under ice at a lake in Austria. They can set you up to chase disastrous tornadoes and hurricanes, or to watch sharks from a cage in the Pacific Ocean. They can also put you in a red-carpet worthy dress picked out by a Hollywood stylist and get you a seat at the Oscars, or tie the customary red scarf around your neck and put you in Pamplona, Spain, with all those running bulls. "We've done it so many times that if clients come to us with something that's legal, we're going to do it. We're going to push it as far as we can," Sims said. Sitting in his new loft office overlooking a trendy downtown street in West Palm Beach, Florida, Sims excitedly shares the stories of his clients' adventures as if he had gone along on each trip.
One woman, a respected scientist, smashed up a car at the U.S. Demolition Derby; a father arranged for his daughter to strut down a cat walk with professional models; another guy filled a yacht with his boss' favorite adult film stars and soon got a promotion as a reward. Sims seems to know all the right people, or at least how to reach them through a few well-placed phone calls. Then, he'll charm them with his Irish wit to get his way. "You need to be that little boy or that little girl that can't take 'No' for an answer. You try to break the plan down into pieces and everything will fall into place," Sims said. Sims unofficially started his business 11 years ago when he started arranging for his banking clients in Bangkok to get invites to the hottest parties. He would give the clients a password to get past the suits at the door, borrowing silly words from Dr. Seuss, like redfish and bluefish. The latter name stuck. He now has 18 offices worldwide, including the new headquarters here, and a team of concierges who respond to every whim of their clients.
Michael Auriemma wanted to take a Formula One race car for a spin around a track in France and to attend the Grand Prix, but he also wanted a trip that his wife would enjoy. His Bluefish concierge arranged for them to travel to Monte Carlo for the Grand Prix, where they watched a practice from a restaurant that sat 10 feet from the cars. For the race day, the couple watched from a balcony in a private apartment that overlooked the track. When Auriemma got behind the wheel of one of Fernando Alonso's championship Renaults, his wife, Sue, snapped pictures of the 650-horsepower car speeding around the track. Later, they had a romantic dinner at a hilltop restaurant overlooking Monte Carlo. "She loved it. She wants to go again next year," Auriemma said.
Another client, Dana LeMarr, called up Bluefish earlier this year and told them she wanted to be stranded on a deserted island. She had the dream since she was 10 years old and read about a boy taming a horse on an untouched beach in "The Black Stallion." A few months later, she and her fiance were standing on a glass floor in a hut in the middle of the bluest water she'd ever seen. The hut sat on stilts on an island off Bora Bora in French Polynesia. "I had no idea that water like that really existed," LeMarr said. "It was amazing to be somewhere like that. We walked out onto the deck of this thatched hut and you don't see a single human being anywhere." LeMarr swam with manta rays and fed a piece of toast to schools of fish each morning. On her last day, she watched a 6-foot blacktip shark swimming under the glass floor of her hut. "I think it must be what this county was like hundreds of years ago when everything was an adventure and everything was kind of dangerous," LeMarr said. The experience allowed LeMarr, 37, to briefly live the life of a billionaire on her preschool teacher's salary.
The cost of many of the trips planned by Bluefish fall into the "If you have to ask…" category. An adventure that lets you play the part of James Bond for a week starts at $75,000. That price could easily quadruple if one chooses a few extra options, such as a mock kidnapping to a day of torturous spa treatments on a replica of the "Octopussy" yacht. Sims said he hired 60 actors to make the James Bond fantasy a reality for one client. "It keeps life entertaining," Sims said. In the past two weeks, he's been to the Hamptons three times, New York twice, Miami for the Video Music Awards and Los Angeles, where he met with representatives for an actor he'll identify only by saying he was in the movie "Ocean's Eleven." "When we're dealing with people's imaginations, life can never be boring," Sims said. "I've always got a bag packed." CNN.Com, Tuesday, October 4, 2005
Syfy announces development slate
Burnett,

 Plestis have new projects at NBCU cabler
Syfy is stocking up its development slate, tapping reality uberproducers such as Mark Burnett and Craig Plestis to deliver new series to the net.
The NBCUniversal cabler is set to announce the projects, as well as other programming news, at its Gotham upfront today at the American Museum of Natural History.
Burnett's untitled competition skein involves contestants creating cuisine from an array of sci-fi books and films, and bringing the food from those imaginary worlds to life.
"The Genie," from Plestis and his Smart Dog Media shingle, revolves around Steve Sims and his concierge company who create real-life adventures based on fantasy films. Examples include creating a chocolate river from "Charlie and the Chocolate Factory" or experiencing life as a hobbit from "Lord of the Rings."
Others shows in development include "Stranded," where a family or group of friends moves into a supposed haunted location, self-documenting their experience in total isolation; "Exit" is based on a Japanese format where contestants must beat the clock while simultaneously solving mental tasks and avoiding booby traps; and "Awesome Foundation," where participants pitch ideas they hope will turn into reality.
Other prospects trade on Syfy's success with paranormal-themed shows. "Buyer Beware" follows sellers who try to unload their haunted houses; "Deadfinder" revolves around mediums who help solve cold murder cases; "Ghost Town USA" examines reports of supernatural activity in Mount Holly, N.J.; and on "The Wrights," relatives of the Wright Brothers build contraptions to communicate with the dead.
The Progressive Dentist
Robb Report Letter
CNBC High Net Worth
CNBC

 – High Net Worth

CNBC's program "Net Worth" requested to have the founder of Bluefish Concierge on its Sunday night prime time show.

A fascinating Q & A about extereme experiences that only a top lifestyle firm can provision.
Wall Street Journal
Wall St Journal
WHEN JUDE HANNAH headed off for a 14-day vacation to Western Australia earlier this year, she was looking forward to more than spending time at the hotel spa and horseback riding on the beach. "I wanted to hook up with some real people," says the 43-year-old Los Angeles-based creative consultant. Sixty-five thousand dollars later, Ms. Hannah found herself hobnobbing with ad directors and artists, including her favorite designer, Rick DeLaRosa, at an intimate dinner party in Broome set up by her travel agent. "Sure, you're paying to be put in front of these people, but there are no name tags saying who has paid and who hasn't," says Ms. Hannah. "It's great for networking. . . . I'm constantly shooting them off emails."
Travel agents are increasingly selling vacationers something they can't book on the Internet: friends. Bluefish Concierge recently got a client vacationing in St. Tropez onto a private yacht trip with local movers and shakers, introduced a traveler to a French pearl-seller in Bora Bora, and in August squeezed clients vacationing in Miami into private parties after the MTV Video Music Awards. Ellison Poe, president of Arkansas-based Poe Travel, says she taps her friends around the world, including a safari leader who invited two honeymooning clients to a personal gathering at his home in Nairobi, Kenya. Another travel agent arranged for a friend who lives on Italy's Amalfi Coast to drop in on her clients and take them for a walk.
Travel companies and schools have been introducing visitors to locals for years, of course — arranging home-stays with families, or setting up lunch visits with residents — but those primarily are designed for students or budget travelers. Web sites like jambo.net and asmallworld.net also let travelers connect directly with potential friends. But the newer services offer more-tailored introductions; rarely advertised, they often come as part of travel bookings that cost tens of thousands of dollars. Such services are being offered by a range of travel agencies, high- end concierge services and other companies whose offerings include vacation planning. Personal-concierge services such as Elan, Mint Lifestyle and Preferred Group, all founded over the past three years, say they're increasingly planning travel, and as part of that service often help clients gain access to social scenes away from home.
When it was launched 11 years ago, Bluefish, a concierge service in West Palm Beach, Fla., was getting its clients into exclusive restaurants or VIP boxes at local football games; now, with travel representing 65% of its business, it's helping its customers gain access to parties and events in spots like Monaco and Venice. These customized social offerings are one way for travel agents to compete with less-expensive online booking services. Since 2000, the percentage of people who book their travel on the Internet has doubled, according to the American Society of Travel Agents, and employment of travel agents is expected to decline over the next decade, according to the Bureau of Labor Statistics. It's impossible to affix a price to friendship, of course, or to set a value on an opened door. Still, for the agencies that offer them, these services tend to pay handsomely: Prices range from hundreds or thousands of dollars for an agency to set up contacts or entrance to a VIP event, to millions or more for full trips that include custom introductions.
For example, Elan, of Newport Beach, Calif., is arranging a trip next month for a client that will include a private jet to Buenos Aires, a week in the presidential suite at the capital's newest hotel and 24-hour access to a "personal experience manager" — plus, the agency is organizing a private gala it says will attract 200 Argentines, from government officials to supermodels and tango stars. (The company declined to name its client.) It says it will offer the same package to others, for $6.4 million. Jackie Bergman, a 38-year-old single mother of two from Mesa, Ariz., wouldn't disclose the price of her trip this year but says she paid "a lot" to have a LaCure Villas, a Toronto-based villa-rental service, immerse her in Jamaican society. She booked a flat rate for the summer, which included a private cook and introductions to several Kingston residents that shared her interests. Once there, she paid extra for local staff members to bus locals they'd chosen to a beach- party dinner she hosted. "It was great to connect with Jamaicans I could relate to," she says.
Travel and concierge agencies say they don't pay the foreign contacts — instead, they say, they arrange introductions they think will yield social or business benefit for both sides. Providers say they have to gauge the compatibility of their clients with their local contacts, accounting for the fact that in unfamiliar situations, some people may not be themselves. "I get stories back that my clients were closed-off or awkward — totally different from the way they presented themselves in my office," says Mara Solomon, director of Homebase Abroad, a Scituate, Mass.-based company that provides Italian villas. Failure, agents say, comes at a high price: The matchmakers may risk losing clients or hard-won contacts abroad. "These things are not for the general public," says Scott Grody, president of the 20-year-old Fugazy International Travel, who says he offers these services to only about 5% of his clients.
Mark Denker, an endocrinologist from Los Angeles, says he got the last-minute jitters when he showed up at a party in Miami hosted by rap star Sean "P. Diddy" Combs. "I'm not in the industry, so I wasn't sure if I was wearing the right things, or if I would fit in," says the 45-year-old father of two, who paid Bluefish $1,000 to get him into the party because he was tired of socializing exclusively with other doctors. Although Mr. Denker didn't exactly bond with Paris Hilton, Shaquille O'Neal or the other celebrities there, he says the experience was worth the money. "It wasn't so much about meeting the people but about seeing the scene, and being seen."
There are some requests, agents say, that require them to draw the line. Bill Fischer, president of the high-end Fischer Travel Enterprises, received a plea last month from a plastic surgeon in Tokyo who wanted him to arrange a vacation for her. Her special request? To meet a "potential soul mate for life . . . a wealthy man — maybe someone in the oil business." Mr. Fischer declined. "I told her to go on J-date," he says, referring to an online dating service. "That's something we wouldn't do — it's just too involved." Wall St Journal
The Envelope – LA Times
Psst! Wanna Sit Next to a Star?

Ever thought about going to one of Hollywood's big awards shows? You know, getting all duded up and walking the red carpet with the most famous movie and music stars in the world? Rubbing elbows at the after-parties, high-fiving the winners and hugging it out with the poor losers?

Sure, you have. Well, Bluefish Concierge can make your dream come true. For a price.

Steve Sims, CEO of the 12-year-old international corporation, has seen his business skyrocket in the past decade. Today, you name the exclusive event, celeb-strewn party or hot international designer fashion show and he can probably get you in.

Sims claims to have sold tickets to top awards shows, with prices ranging from $2,500 for back row seats to $120,000 for front row spots amid the award winners.

But seats are just the start.


To feel like a real star, you still need the gown or tux, hair and makeup, a snazzy limo and driver.

And don't forget the proper hotel. "Staying in the right hotel is key," says Sims in his "Lock, Stock and Two Smoking Barrels" accent. "If you're staying at the Mondrian and 'anging out at the Sky Bar on Grammy night, you're right in the middle of the after-party action."

In the past, Sims has had customers (his big spender client base has money but not the necessary connections) cough up from $50 grand to a quarter mil for the "total awards package." And, he points out, "that's not even staying in the penthouse." They look at it as a dream come true, a once-in-a-lifetime experience.

Don't ask how he does it. "There are many avenues of access. And there's always a way into any event. We have contacts with production houses, show sponsors, film and recording studios. All these important awards shows act so snooty and exclusive. I compare getting access to awards shows to being in 'The Matrix.' You know it's not the real world, but they won't admit it."

The first step is to go tp the Bluefish website and submit to Sims' "sniff test." "We try to get a feeling for the customer, you know, if they're someone we want to work with or if they just have unrealistic expectations that attending a big event will change their lives forever."

Unrealistic expectations? In Hollywood? Shocking, simply shocking.

The Envelope by Elizabeth Snead – LA Times Nov 05
FINE LIVING CHANNEL
Fine Living
The Ultimate Concierge
Well, its official, Fine Living announced Bluefish as the nation's top concierge! We climbed the list over Corporate Concierge and Vacation Concierge to reach the crown title… Ultimate Personal Concierge!
The Insider's List of Top 10 Concierge Services was featured on the Fine Living network throughout the month of November and December.
The list can also be seen in the November issue of the Fine Living magazine. So, if you haven't used our services yet… What are you waiting for?!
https://www.youtube.com/watch?v=kJcHOUgKgP0
TRUMP
Official Concierge & Credit Card of Bridgehampton Polo
Official Concierge & Credit Card of Bridgehampton
Bluefish Concierge has been named the Official Concierge & Credit Card of Bridgehampton Polo.
West Palm Beach, June 18th 2007.
With around 4 weeks to go before the Hamptons become polo crazed Bluefish Concierge has been named the Official Concierge & Credit Card of Bridgehampton Polo. Bluefish plans to allow access to card holders to a variety of events bringing the Bluefish attitude to Bridgehampton.
"I am thrilled to see us back here, it's a fantastic sport and a great social event, a natural fit for Bluefish" said Steve Sims, CEO of Bluefish
Steve Sims & Duchess of York Sarah Ferguson
About Bridgehampton 2007 Mercedes-Benz Polo Challenge at Jet One Jets Field. Once again this year, Bridgehampton Polo Club hosts the coveted Mercedes-Benz Polo Challenge. This summer's matches promise to be some of the most exciting in the sport of polo. Some of the world's greatest athletes will compete for one of sport's most treasured prizes.
On each of six consecutive Saturdays in July and August this summer, the Bridgehampton Polo Club opens for public viewing amid the splendor of the fashionable Hamptons summer scene. The Bridgehampton Polo Club hosts the Mercedes-Benz Polo Challenge at Two Trees Farm, 849 Hayground Road, Water Mill, NY 11976.
About Bluefish Bluefish Concierge is widely recognized as one of the leaders in the exclusive field of luxury concierge, experience and travel services and has received coverage by major media including CNN, The Wall Street Journal, Robb Report, NBC and CNBC, The London Times, Forbes, The Palm Beach Post, Trump Magazine, Fox News, and many more.
Bluefish is in its 4th year of a joint venture to issue a credit Card with Bank of America.
Bluefish is not a gopher service, an old boy's network or a snobby bunch of party crashing showoffs. Please don't call us to pick up your dry cleaning; that is simply not what we do. Instead, we offer the highest level of personalized travel, transportation and entertainment-related services to corporate executives, celebrities, professional athletes and other discerning individuals interested in living life to its fullest.
What does that mean? Well, in many ways we are the ultimate little black book, we're your genie in a bottle, except this time, the wishes are endless. We can secure impossible access to A-list events, set up that "I never thought I could do this" adventure, line up private charter flights and book luxury accommodations in every city around the world. When it comes to travel, transport and entertainment, we provide a level of service and satisfaction that is unmatched anywhere else. Do note, our events and experiences fall under the price range of "if you have to ask then…" So please, if you are going to shop around… skip us!
However, our expertise in managing these disciplines is only part of our unique business model. We also excel at arranging outrageous, one-of-a-kind experiences available nowhere else. We have sent clients in a submarine to see the remains of the Titanic, provided exclusive access to the greatest award shows, fashion events, and arranged fighter jet flights over Moscow ! It is our uncommon ability to truly make the world accessible to our clients that absolutely sets us apart from the rest.
Forbes.com
The Most Outrageous Stuff Sold Online
 
The Most Outrageous Stuff Sold Online
Mary Crane and Maureen Farrell 10.31.06, 12:00 PM ET
  
When Dallas Mavericks owner Mark Cuban wanted a jet, he went online. For $41 million, Cuban got what he logged on for: a Gulfstream GV, delivered to his hangar.

Back then, in 1999, consumers spent a wee $25 billion over the Internet. Since then, online retailing has exploded at a 35% annual clip, to $176 billion last year, according to a report from online retailing association Shop.org and Forrester Research. The most popular categories were travel (at $62 billion), followed by computer hardware and software ($14 billion), autos and auto parts ($13 billion), apparel ($11 billion) and home furnishings ($8 billion).


The online market for jets may be a bit smaller–as is the demand for entire islands, lunar real estate and Soviet tanks from World War II. But that doesn't mean someone isn't trying to peddle this crazy stuff online.

To wit: A set of three islands, covering 1,100 acres, is available for sale on vladi-private-islands.de. According to F. Vladi, the site's owner, l'Isle du Nord is a steal at 6.5 million euros ($8.2 million) and is "only ten minutes by helicopter from downtown Bordeaux." The islands come complete with a small village, three manors and a vineyard that can bottle 228,000 bottles of your own personal wine every year.

Looking for a little more adventure? ExtravaGift.com offers "extravagant gifts for everyone"–including submarine rides to the Titanic. Fork over $36,650 and you'll descend 12,465 feet beneath the sea aboard one of only three commercial submarines that can reach 20,000 feet without crumpling under the pressure.

Those who lean lunar have options online, too. For $32, the New York-based Lunar Registry will sell you an acre in the Sea of Tranquility–"the moon's most prestigious location." All 850,000 customers who have bought real estate on the moon received a personalized deed on parchment, a satellite photograph of the plot and enough information to help locate the property by telescope.

Our favorite over-the-top online item: Bond. James Bond. TheBlueFish.com offers the "ultimate 007 experience." Seventy-five thousand dollars buys you a stay at the actual Monaco suite used in several James Bond movies, private driving lessons with a Formula 1 driver, a speed boat chase, a mock kidnapping to the "Octopussy" yacht, dinners in Moscow, a private tour of the Kremlin and a top-secret trip to Zhukovsky Air Base for flight training exercises in a military jet. Beats the heck out of watching the new Bond flick in a theater this month.

To be sure, final negotiations of some of the larger purchases such as boats and planes tend to be handled offline. But just in case you were wondering, you can use a credit card to buy your chance to meet Tony Bennett in London for $44,000 through one of Sam's Club's "once-in-a-lifetime" packages.
VH1 Fabulous Life
VH1

 - The Fabulous Life of Miami

When VH1 did the Fabulous Life of Miami TV show, they knew they didn't have to go far to get the inside track on the most exclusive events and the newest South Beach hotspots.

Case in Point: Pamela Anderson and the Shore Club / Shopping Spree.

Indeed, the Bluefish happened to be a few miles up the coast in Palm Beach and who better to do this show than the very people who make life anywhere FABULOUS?!
The Street
A

 man in Austria rides into an office on an elephant. Has he lost his mind?

No, he's just going to propose to his girlfriend, who has a fascination with elephants.
And only Steve Sims, CEO of high-end service Bluefish, could concoct such an elaborate proposal — which, incidentally, did require a donation to the local zoo. 
Not surprisingly, the woman said yes, and the couple rode off happily into the sunset (or at least, out of the office) astride the majestic creature — truly an engagement to remember.

As Valentine's Day rapidly approaches, in order to ensure a similar positive result, many men and women are looking for creative ways to ask their beloveds to spend the rest of their lives together.

Even if you're not an animal person, there's plenty of other outrageous ways to surprise (and succeed with) your loved one.
For a thespian-loving couple, Sims designed an intricate plan to rent out a small London theater and alter the script of a show they loved, a half hour into the performance.


In the middle of the show, the actors started ad-libbing, much to the girlfriend's dismay — until her boyfriend then went on stage and proposed.

For Sims, who has countless contacts, the process was easy.
He simply contacted the theater, set up a date on which they weren't doing a matinee and, to cover the production costs, had his client buy out all the seats.
Additionally, to enhance the plan, the "audience" was composed of family members and friends — decked out in stage makeup and costumes so the girlfriend wouldn't become suspicious.
Needless to say, she was completely taken by surprise, and the proposal was a wild success.
Sims, 40, originally from Ireland, previously worked at a foreign bank and made several contacts while entertaining foreign clients — all of which have served him well in his new concierge business.
Over the Top
Bluefish has a reputation for planning unusual, even wild proposals, and judging from its client base, there is clearly a need for its services. The company is rapidly expanding around the world to spots in London, New York, Japan, Russia and Dubai.
"We specialize in making your hopes and fantasies come true; we are basically the modern-day Fantasy Island," says Sims, a burly man with an eyebrow ring and goatee — not your typical CEO.
Besides unique wedding proposals, his company creates once-in-a-lifetime experiences such as riding a fighter jet, going on an African safari or taking a private tour of the Titanic.
February 2, 2007
Trader Monthly
The Tip Sheet
Extreme

 Games:

Club Med is for losers. Outward Bound is for wusses. For experiences that might actually quicken your pulse, try Bluefish Concierge (866-303-8587; www.thebluefish.com), the world's top connection for truly sick events, travel and adventures. Dying to drive a Formula 1 car, skydive at 30,000 feet or cage-dive with great white sharks? Done. Looking to travel to, say, Ibiza or the North Pole? Easy. You can even pick your mode of transport, from jet to yacht charters, or arrange for you own personal groveling PA.

Trader Monthly Nov 04
Player Magazine
One-time construction worker Steve Sims, now king of the concierges, can get you in.
Steve Sims looks like a stiff-armed bouncer who waves the fortunate few through the doors of white-hot nightclubs while dashing the dreams of others. Goes to show, don't judge a bloke by his mug. Or something like that.  Because as it happens, Sims is a guy whose connections can help you gain entrance to exclusive places and A-list events.
He's the owner of Bluefish Concierge, the Palm Beach, Florida-based company that caters to wealthy clients who want VIP access to the hippest places on the planet. Sims and his 400-person staff spread out in major markets in the States and abroad, pull off the impossible and make fantasies realities. Sims knows all the right people. With a couple of phone calls he can make almost anything happen. The event is sold out? No it isn't. Hotel booked? Bollocks. Here's the key to your penthouse suite.
Sims, 37, can schedule your trip to see the wreckage of the Titanic, do a shark dive with Great Whites, or, for a mere $20 million, send you to the international space station. For birthdays his team has done everything from sprinkle flowers from a helicopter to arrange for a ride in an old military submarine.
His company was the official concierge at this year's Kentucky Derby and has served the same role at the Grammys. Pam Anderson, Steven Tyler and James Gandolfini, among many celebrities, have used his services. There was the wife of a computer executive (think iPod) who paid big bucks for her husband to be flown to France to live like James Bond for a week. Actors were hired to play villains and vixens and backdrops include Monte Carlo, Nice, and St. Tropez.
Such events come at a steep price, which explains why Sims projects the company will gross $25 million in 2005.
He has a killer pad in Delray Beach, Florida drives a Turbo Porsche, and has a customized Bourget motorcycle. In addition to his comfortable lifestyle, he's also participated in his share of outrageous adventures, including climbing the Himalayas and then white-water rafting down the other side."I'm very fortunate," says Sims, who is married and has three children. "And I'm having a blast."
Not bad for a lad who left school at 16 and went to work for his father's construction firm just outside of London. Sims may have been building things, but none of them was a plan. He quickly tired of the long work weeks, which would culminate in "getting pissed" on a Friday followed by "going toe-to-toe" and then a "punch up." "When you look around and see the guy next to you is 60 and doing the same shit." Says Sims, "you're like, I've got to get out of here before then." At 18 he met a wise 17-year-old named Clare. "I didn't think I had a chance with her," Sims says. But they started communicating and it evolved from there. They've been through "absolutely everything together" and he credits her for seeing a better future for him, even if he couldn't.
"She said, "You can do other things you know. You don't have to follow the family business.' She gave me the belief to believe in myself."
So he got a job with American Express, first selling insurance, then becoming a financial manager, working for one of its banks in London. Later he was transferred to Hong Kong and worked throughout Asia. During this time, Sims began meeting bigwigs, networking, and going to lavish parties across Europe. His rich clients relied on him not just for his financial knowledge, but for his ability to score tickets to hot events.
He realized he was on to something and started Bluefish, which he set up in Geneva, and eventually landed in Florida. It's named after a password he and some buddies once used to get clients into events.
Sims is a straight shooter."You need to be who you are and be real. People, myself included, can see through shit in seconds." He won't take on everyone as a client. He wants to trust them and like them, and he expects them to be honest, courteous, and unwilling to ask Bluefish's crew (which Sims praises enthusiastically) to plan an event that will embarrass or harm him, his employees, and the clients themselves. "I've been known to be abrasive and I do not suffer fools gladly'" he says. Still, he'll consider most requests, whether or not you're rich and famous.
"I've never looked at class distinction," says Sims. "If a guy's a jerk, he's a jerk, with or without money. I just refuse to buy into crap, like 'Do you know who my father is?' That really pisses me off."
He has no problem introducing his customers to an athlete or a celebrity. "There's no reason for a client to feel like he's a little boy who's snuck into an adult movie. They should go along to an event or party with pride that they deserve to be there. They need to feel comfortable and that's what we're there to do."
Sims gets to hang out at Elton John's Oscar parties, chat with celebrities as diverse as Sting, Dustin Hoffman, and Tony Hawk, and rock out at the Grammys. But the best part of the job, he says, "is that I get to make people happy."
By Ty Bronicel, Player Magazine
PRIVATEAIR Magazine
getaway!
UNLEASHED
Forbes FYI
FOX NEWS with Steve Sims
Fox Morning News

Popping

 The Question

Its a Proposal, or its Valentine's Day.. or both.

…what will you give, what will you get?

It is your time to shine, and make memories of it in style, Fox News contacted no other than Bluefish and Steve Sims to find out how the truly creative approaches are done…
Official USA Concierge of Couture Fashion Week
Official USA Concierge of Couture Fashion Week

Bluefish Named Official USA Concierge of Couture Fashion Week

Bluefish Concierge has been named Official USA Concierge of Couture Fashion Week
(FAST PITCH PRESS) Date Released: 06/02/2007


Bluefish Concierge has been named Official USA Concierge of Couture Fashion Week. The announcement was made in June 2007 to the press by producer Andres Aquino in conjunction with the prestigious event's participation in the Puerta de Europa bridal fair in Madrid, Spain.
Couture Fashion Week and Bridal Fashion Week are multi-day events showcasing luxury couture and fine fashion including eveningwear, elegant fashion, couture bridal as well as accessories. Attendees include upscale consumers, invited VIPs, the press and selected high-end store buyers. The events also include exhibits of luxury brands as well as entertainment and networking cocktail and after-parties. Venues include the world-famous Waldorf-Astoria and St. Regis Hotels in New York City and the Four Seasons Resort in Palm Beach.

"Bluefish is an attitude, a lifestyle" says Steve Sims, Founder and CEO of Bluefish Concierge. "Bluefish is the master of its domain, bowing to none yet serving those seeking nothing less than the best life has to offer. It is the golden key to the world's most exclusive events, yet available from the comforts of home."

Bluefish Concierge is widely recognized as one of the leaders in the exclusive field of luxury concierge services and has received coverage by major media including CNN, The Wall Street Journal, Robb Report, NBC and CNBC, The London Times, Forbes, The Palm Beach Post, Trump Magazine, Fox News, and many more.


"We are delighted to be partnering with Bluefish," notes Couture Fashion Week producer Andres Aquino. "Our events are a perfect match with Bluefish's discerning clientele. Platinum and Titanium VIP guests will enjoy the fabulous fashion shows as well as special parties and dinners, one-on-one meetings and photo ops with designers, backstage access, special gift bags, a personalized shopping experience and more."

Mr. Aquino is currently on a world tour to promote Couture Fashion Week, Bridal Fashion Week and other upscale fashion events that target upscale consumers. He will be meeting with potential sponsors, partners, designers and others in Spain, France, Monaco, Jakarta, Bali, Australia and Curacao before heading back to New York. Talks are currently underway with representatives of South Africa, Romania and other countries, as well as with a number of large corporations and well-known luxury brands.

In addition to its ongoing offering of unique branding opportunities for luxury products and services, Couture Fashion Week is also working towards the launch of a couture salon in New York City which would cater to the upscale fashion consumer, with access offered as part of lavish travel and shopping experiences for those with exquisite tastes.

Couture Fashion Week and Bridal Fashion Week are promoted around the world not only through coverage in such prestigious fashion publications as Book Moda and Collezioni Sposa, but also through participation at world-class trade events like Puerta de Europa in Madrid as well as through strategic partnerships with industry leaders like Bluefish Concierge. The next Couture Fashion Week shows are scheduled for September 2007 in New York, and November 2007 in Palm Beach, Florida, and Bridal Fashion Week is scheduled for October 2007 in New York.
More information is available as well as high-resolution photos for press editorials.
Couture Fashion Week: http://www.couturefashionweek.com, E-Mail: info(at)usafashionshows.com
Bespoke Magazine
Bespoke Magazine
 May/June 07

The Concierge King


American based Bluefish Concierge service has mastered the art of the ultimate experience and travel. Nothing seems to be too exclusive or difficult for the company. That's why it needed to be challenged, writes Rana Bailout.

"Are you throwing down the gauntlet? Are you daring to challenge Bluefish?" declares Steve Sims, CEO of the concierge service to the stars, millionaires and most discriminating clientele. Well, yes that's the idea, I found myself blurting out, somewhat meekly responding to his booming voice. There's a pause down the phone to Palm Beach, Florida, where the headquarters are located – Bluefish grew so big in the last few years, Sims was compelled to open another office in London and it currently has over 2,000 staffers worldwide. I could imagine him musing over the situation, turning it over and over in his mind, flipping it on its head, as I wait for a his answer, "You're on!" he says with childlike excitement. We both laugh a little. With our gloves now off, respective positions were taken. There was too much at stake: his reputation and this feature.

The challenge was quite simple: to create a one week, 20,000 USD new age itinerary for the fabricated Saleh family in some of the more traditional countries in the region: Algeria, Yemen, Oman and Jordan.

Dubai would have been too easy and Beirut a usual suspect. By new age we meant: groundbreaking, off-the-beaten-track, progressive, alternative, eclectic and modern. And in an attempt to put a spanner in the works, the Saleh family members had very little in common with each other, except for the love of travel and exploration. Bluefish only had a week to come up with the goods and the sands in the hourglass were beginning to make their way through the narrow tube and into the bottom bulb.

The heat was on.


Bluefish is not your regular concierge service, at the ready to pick up your laundry, get you on the list for the latest Hermes bag or fly your poodle halfway across the world because you happen to miss it. The company organises customised travel, events, transport and the more adventurous experiences. The brainchild of the Irish-born Sims, the company was launched in the early 1990s when the entrepreneur realised he could make money out of getting people into the hottest parties, Michelin-rated restaurants and over-booked luxury hotels. "When people call us up," says Jillian Vann, a senior representative at the company who handled our request, "They look for what no on can provide – and that's no sales pitch. There are plenty of companies out there willing to do your dry cleaning, but how many can boast the ability to have you lunch with royalty and then party with a rock star."

Sims' natural flair for incorporating business with people's sense of fun was piqued after he was given a banking position in Hong Kong. He proceeded to gain and keep clients by offering complementary passes to exclusive parties; all they had to do was offer up a silly code at the door, of which bluefish was one. The concierge service was born when Sims moved to Florida and his former clients kept requesting he hook them up with exclusive tickets and bookings.

What the company does is cater to the whims and wants of the likes of Pamela Anderson, Steve Tyler and The Sopranos patriarch James Gandolfini. And such services don't come cheap. Wanting to make her husband's dream come true, the wife of a computer executive called Sims up and asked him to organise a one week James Bond experience for her dearly beloved. The exec was summarily picked up, flown to Monaco where he stayed in a hotel and spent a week being kidnapped in Saint Tropez by a sexy Bond girl and then rescued by American Navy Seals. All this for the neat sum of 500,000 USD.

How do they do it? "Bluefish has within its extensive network a slew of contacts we have worked within the past to provide a particular type of itinerary. We begin every request by returning to those who have already proved an exemplary service. In the unlikely scenario that a contact is not available for the particular event, we first seek recommendations from those we know and trust. And as a last resort, we start fresh and make an educated decision" explains Vann.

Consequently, a new age trip in the Middle East should be a walkin the park? According to Vann, the only difficulty was that the Saleh family was a Bespoke concoction, making it difficult for a 'travel-stylist' to get a real feel of the clients involved. "It's vital to gather impressions of the people you are working to please. To an attentive listener, details such as the syntax of a person's sentences and the choice of and repetition of some words help gain a well-rounded understanding of not only the person, but also their expectations of your itinerary," she says.

When I received the itinerary, it looked impressive enough for me to hop on a plane and head across to Yemen (see programme in box). The journey includes activities like dance and music lessons in Yemen, informative tours such as a Bedouin escapade in Oman and some much-needed rest and relaxation at the Movenpick Hotel and Resort by Jordan's Dead Sea. But, hold on, where's Algeria?

"We had a problem with Algeria because in doing our research of this country, we became increasingly aware of conflict and military presence there. And we were apprehensive as to whether tourists would really want to go there. Often, when clients make their requests, they are not entirely aware of the conditions. They come to us for help. Period. It is our moral obligation to outline the bad as well as the good. Their trip will be made all the better for it,' clarifies Vann. Now, what if! ask them to create an experience of GI Jane in the North African country? Maybe that would work just fine.

Bespoke Magazine May-June 2007
New York Times
New

 York Times
This Is One C.E.O. Who's Fond of Bond
Through his company, Bluefish Concierge, in Delray Beach, Fla., Steve Sims arranges unusual travel and entertainment for celebrities and wealthy executives. Celebrities, he said, want the predictable things – tickets to after-parties at the Grammys or other popular events. The chief executives are the wild ones.
Mr. Sims has received requests from executives who wanted to soar over Moscow in fighter jets or travel by submarine to the remains of the Titanic. But the strangest was from the chief executive of a major software company who wanted to be James Bond for a week.
Mr. Sims said his team "pulled out all of the stops," arranging a one-week trip for the executive and his wife to Monaco. The executive, who paid $350,000 for the experience, was given a mission, which included operating a powerboat and speeding around in a race car. He had to use a code name in restaurants, where staff members were tipped off ahead of time to serve him his favorite drink, Dewar's on the rocks. At one point, Mr. Sims even arranged for the executive to be kidnapped by the mysterious Octopussy while dining on a yacht in St.-Tropez. In all, Mr. Sims hired more than 200 actors to simulate the Bond experience for the chief executive. But, apparently, $350,000 couldn't buy everything. When the executive was in a casino playing baccarat, Mr. Sims asked his team to smuggle a white cat inside to accompany an actor who was dressed as Odd Job, a popular character in Bond films. But casino authorities refused to admit the animal. "We ended up having to find a stuffed cat at the last minute," Mr. Sims said. "It was a pity."
NBC 5 – Bluefish Polo
BLUEFISH

 POLO In WELLINGTON

As the 2006 Polo season commenced on the lush lawns of the International Polo Club in Wellington, few knew of our soon to be notorious presence at the Blue Lounge.

However, as the season rolled on, and the Blue Lounge proved the place to be on Sunday afternoons, it wasn't long before NBC channel 5 caught wind of the distinctive Bluefish marquis.
Sunday Times – London
Steve Sims, founder of Bluefish
How

 I Made It
STEVE SIMS was not the most obvious candidate to become the head of an American luxury concierge service that caters for the whims of business executives and celebrities.
Born and brought up in Ireland, he left school at 14 to work for his father's construction firm. From the age of 16 he went to technological college but still spent three days a week on a building site.
His leisure time was devoted to motorbikes, fighting with the British kickboxing squad and "going down the wrong path".
One day, however, his girlfriend told him he should change his ways and Sims realised he wanted to do more than fight, build and drink beer.
He managed to get a job in the financial-services division of American Express, but was told that, as the only non- graduate, his starting salary would be a third of that paid to other new recruits. He supplemented his wages by delivering cakes to supermarkets in the morning before going to work.
His next job was as a runner for a London stockbroker — where he spent a large part of his time fetching sandwiches and coffee. So when a colleague was offered a job in Hong Kong and turned it down, Sims decided to ask for it.
He got the posting, but the day after he arrived in Hong Kong the company was taken over and he was out of a job. His new boss offered him a position in Bangkok, so that was where Sims went.
He became a successful banker and started wooing clients by getting them tickets to exclusive parties or events. It went so well that he started a club for clients and friends, sometimes giving them silly passwords to get into functions.
He said: "A very wealthy person would turn up and have to say 'Sponge Bob Squarepants' at the door. We had guys worth billions walking up and whispering 'Green Fish'."
Looking for a change of scenery after Bangkok, Sims moved back to Britain but didn't like it. He had visited America many times to see clients and decided to try his luck there. He headed for Florida, got a work permit and started a Palm Beach company offering personalised travel, transport and restaurant bookings.
He said: "My move to America was a retreat at first, yet many clients I had helped before asked me to do more for them."
At that time, he said, there were no concierge companies to compete with. Starting his business required little capital, and he could rely on his networking skills. He decided to call his company Bluefish — a password he had once used to get clients into events.
Sims started by providing services to bankers, but soon had celebrities, athletes and chief executives as clients. They would call him if they wanted to go to the Cannes film festival, for example, or after-show parties in private lounges and catwalk shows. He would organise the flights and extras such as providing borrowed Cartier jewellery for a night out.
As his company has grown, so have his clients' demands. One spent $500,000 for eight people to play golf in Scotland. Others have asked to hang out with Formula One drivers in the pits.
One client wanted to fulfil her husband's ultimate fantasy and turn him into James Bond for the day. Sims arranged for the husband to be flown to Nice, where he was picked up by an actor playing the villain, and taken to the Hermitage Hotel where 007 has stayed.
"We used Monaco as a backdrop, and had people shadowing him the whole time. In St Tropez he was kidnapped by sexy women in black latex outfits, with plastic guns and taken to the harbour and onto Octopussy." The client was eventually rescued by US Navy Seals.
Sims, 38, attributes his success partly to realising early on that if "you want to catch fish (and clients) you have to go where the fish feed. It's a simple idea, but many people didn't do it," he said. "In many ways we are the ultimate travel agency, rental-car company and ticket brokerage house combined into one because we can secure impossible reservations at the finest restaurants, set up VIP access to the hottest clubs and events or line up private charter flights in every city round the world."
Unlike other reservation companies, however, Bluefish is not membership-based. Sims said: "If we don't like you, we are not working with you."
The strategy has worked. Bluefish now has 75 employees in America and 250 consultants worldwide. It is expected to make a profit of more than $1m on sales of $5m this year. Sims plans to open an office in London in November and expects that business to match the American operation eventually.
Sims, who still owns 100% of the company and ended up marrying the girl who told him to change his ways, said his advice to others starting out was not to give up too easily. 
He said: "People fold too early. They listen to the bluff and think they need to walk away, especially if they are under financial strain. But my advice is, you don't always have to go forward. You can sometimes go sideways."
Sunday Times, London August 15, 2004
Concierge firm caters for every whim of the rich
Brentwood Life
Dreaming

 Big with Bluefish

By SARA McMANAMY-JOHNSON
Staff Writer
Anyone tired of giving the man in her life sweaters or golf clubs or the woman in his life spa packages or handbags can aim a little bit bigger this year for the holidays.
How about a dive down to the Titanic wreckage or an L-39 military-jet laser dogfight over the Mojave?
Bluefish can make that and more happen.
"[We're] a lifestyle concierge firm on steroids," said Bluefish founder and CEO, Steve Sims.
Whether you want to know the best nightclub to visit in Panama City or you want to bungee jump from a hot-air balloon, Bluefish can likely make it happen.
The company began in the 1990s in Hong Kong. Sims, who was trying to network to land a job in the banking industry, began holding exclusive "underground" parties.
"It was a way of meeting likeminded people – people I liked," said Sims.
He never landed the banking-industry job, but Sims' underground parties continued to grow until his wife suggested turning them into a business.
Bluefish now has offices all over the world, but their services are still exclusive.
The business operates as a club with an annual membership fee of $2,500, but membership is approved or denied on an individual basis.
"It's not a monetary demand or prerequisite to be accepted into the club," said Sims.
He explained that his criterion for membership now is about the same as it was when he began in Hong Kong – he has to like the person.
"I used to work on the door for these events that I used to do – people didn't know it was me – and I would have these really silly passwords," recalled Sims. "'One fish, two fish, redfish, bluefish' was one of them…I would ask for the password, and someone would say 'Well, there's a password, but it's silly,' I would say 'I'm sorry, there's no party here.' The people who have enough of a sense of humor to say this silly password – those are the people that I want to know. That ethos or mentality is what Bluefish stands for."
For Sims, Bluefish is about having fun and following your dreams, as big as they may be.
"The sad thing is that as we grow up, as adults we're taught to bring in those parameters; we're told to kind of bring in those wishes and not dream, and there's no need for that," said Sims.
With the help of Bluefish, your checkbook is the only limitation.
"A lot of the experiences we're doing at the moment are travelling," said Sims.
He recalled one client that wanted to forgo his usual luxury travel accommodations in favor of something a bit more rustic.
"He wanted the gritty experience of the Rio and the Amazon on a fishing boat," said Sims. "There are some areas of the world that you don't want to go for the gritty experience…We've got security guards with him, and we had to take out kidnap insurance…It's a nightmare, but it's what he wanted."
Bluefish's most well-publicized experience offering is a dive to the wreckage of the Titanic. The trips will be held in 2012, the 100-year anniversary of the Titanic's last voyage.
Clients will travel onboard a Russian research vessel to the wreck site, where they will then make the two-and-a-half-mile descent in a MIR submersible.
Clients may also omit the dive and view the submersible's progress via camera feeds at the mission control center on the research vessel.
The cost for the trip, including the dive, is $62,000, including insurance. This also includes airfare, accommodations, and food.
The cost for the trip, excluding the dive, is $10,000.
While Bluefish is earning a reputation for offering the extravagant, Sims noted that there are possibilities to fit many other budgets.
"The dreams don't have to be $200,000," said Sims.
For $450, you can drive a Ferrari around a racetrack; for $9,000, you can take five different cars up to 200 miles per hour in the Mojave Desert.
Sims is quick to note, though, that pre-packaged options – such as the Titanic dive or space flight – are the exceptions, not the rule; Bluefish experiences are based on the individual client's particular dream.
"We're organic, and we grow by demand," said Sims.
Anyone applying for membership completes an online application, and someone from Bluefish will call the applicant to learn more about him or her.
"It's a relationship, and our biggest asset is we are a small, intimate boutique firm," said Sims.
The more Bluefish knows about you and your dreams, the better they are a making those dreams come true.
The Bard Capital Challenge
Bluefish & The Bard Capital Challenge
 
Las Vegas

BLUEFISH CONCIERGE TO PARTNER IN HOSPITALITY, PROMOTIONS AT BARD CAPITAL CHALLENGE, DEC. 1-4, AT THE TPC AT THE CANYONS IN LAS VEGAS
Unique National Pro-Am Event takes PGA TOUR Challenge Season to grassroots to benefit American Cancer Society

LAS VEGAS – Bluefish Concierge, one of the nation's leading event hospitality companies, will partner in hospitality and promotional efforts at the Bard Capital Challenge, at the Tournament Players Club at The Canyons in Las Vegas, it was announced.


Services to be provided by Bluefish Concierge in conjunction with the Bard Capital Challenge include: concierge hospitality planning for event parties, lounge areas, lounge promotions, VIP pro-am attendees travel, activities packages, goodie bag/VIP gift program, silent auction items, and various sales and promotions.

"We are delighted to be able to partner with Bluefish Concierge," said Bill Papariella, president of the Bard Capital Challenge. "They are one of the outstanding companies in the industry and they will provide the high level of services our professionals, amateur guests and sponsors deserve."

"The partnership between Bluefish Concierge and the Bard Capital Challenge is a natural fit," said Steve Sims, CEO of Bluefish Concierge. "Offering amateurs the chance to compete as pros mirrors many of the elite services and products we offer, we're constantly fulfilling dreams. I would imagine, the Bard Capital Challenge realizes the dreams of many avid golf enthusiasts."

Bluefish Concierge's commitment to offering the highest level of personalized travel, transportation and all-access entertainment-related services has made Bluefish a one-stop shop for corporate executives, celebrities, professional athletes and other discerning individuals interested in living life to its fullest. The company also excels at arranging outrageous experiences. They have sent clients in a submarine to see the remains of the Titanic, provided exclusive access to the Grammys and New York Fashion Week and arranged fighter jet flights over Moscow. In 2003, Bluefish partnered with MBNA to become the first concierge to launch it's own credit card. In 2004, the company was named the official concierge service to such high-profile events as the Grammys and the L.A. and New York Fashion Weeks. Also in 2004, Bluefish was named the "Ultimate Concierge" by the Fine Living Network. 

PGA TOUR players John Daly, Fred Funk, Tim Herron, Zach Johnson, Nick Price and Scott Verplank are confirmed for the Bard Capital Challenge, an officially-sanctioned event on the PGA TOUR Challenge Season. Two more players will be named later. The event will be taped for telecast Dec. 15 on The Golf Channel and re-airs on Christmas Day.

The Bard Capital Challenge offers amateurs from throughout the country the opportunity to experience what it is like to be a pro for a day and compete with top TOUR stars. The finals of the Bard Capital Challenge features a championship purse of $750,000, with $600,000 going to the professionals and $150,000 donated to the American Cancer Society.

A very unique pro/amateur event, the Bard Capital Challenge enables amateurs to compete in the national tournament in Las Vegas, with the eight winning two-player teams partnering with eight PGA TOUR stars in the finals.

To sign up for the Bard Capital Challenge, visit www.bardcapitalchallenge.com or call 1-866-977-3224.

To be eligible for the Bard Capital Challenge, amateurs must have an official USGA handicap index between 3.0-27.0. All events and entry instructions are listed on the tournament section page of the Web site (www.bardcapitalchallenge.com ). The national finals will be an exclusive two-player team, 54-hole competition (low net/best ball). Following the three rounds of competition, the eight lowest scoring amateur teams will each be partnered with a PGA TOUR professional on national television as they compete in an 18-hole main event for $750,000: a $600,000 professional purse, $150,000 in donations to local American Cancer Society chapters of amateur winners, plus amateur prizes. Scoring in the main event will be better ball net of the amateur team, plus the PGA TOUR pro score per hole. PGA TOUR player eligibility for the Bard Capital Challenge is based on: The top two players available on the 2005 money list through the NEC Invitational; the top available finisher from the 2005 PLAYERS Championship; one member of the 2005 Presidents Cup team (U.S. or International), and four sponsor exemptions.

About Bard Capital Partners LLC, Richard Bard, and the Bard Center
Bard Capital Partners LLC is a private equity investment group with headquarters in Golden, Colo., and New York City. Bard Capital's strategy is to invest in businesses that will benefit from the operating experience and active involvement of Mr. Bard and the Bard Capital team. The present portfolio includes two global manufacturing companies as well as sports properties The Bard Capital Challenge, The Duff Challenge and The Chairman's Cup.

Mr. Bard has formed, founded or acquired and then operated numerous investor-led businesses bringing them to successful conclusions, including FoxMeyer Corporation, Coast-to-Coast Hardware (CoastAmerica Corporation), ComputerLand Corporation, and Optical Security Group, Inc. Since 1989, through Bard & Co. and IdeaSpring, LLC, Bard has managed a diversified portfolio of corporate and real estate investments, including banking, manufacturing, security products and services, gaming, web-enabled new ventures, office buildings, residential homebuilding, affordable housing, and RV parks. Bard served as chairman of the board of the Federal Reserve Bank of Kansas City. He is one of Denver's best-known entrepreneurs, is a highly-respected voice in the business and financial communities, and has ties to business leaders both in the U.S. and abroad.

The Richard H. and Pamela S. Bard Center for Entrepreneurship Development at the University of Colorado at Denver was established in 1996 to be a vehicle to help foster and promote economic opportunity in Denver and the surrounding community. In addition to the 400+ students annually enrolled in the program, the Center houses up to 12 emerging companies at its in-house incubator, offers start-up capital venture funds to qualified new businesses, and annually awards the best student business plans in a highly-publicized ceremony in Denver. With the support of a continuing endowment from the Bard Family Foundation, the Center is totally self-supporting and operates in an off-campus facility including the third floor of the historic Masonic Building in downtown Denver.

About the American Cancer Society
The American Cancer Society is the nationwide community-based voluntary health organization dedicated to eliminating cancer as a major health problem by preventing cancer, saving lives, and diminishing suffering from the disease. With more than two million volunteers nationwide and 90 years experience, the American Cancer Society is one of the oldest and largest voluntary health agencies in the world. Offices in 3,400 communities across the country uniquely position the American Cancer Society to meet the needs of all cancer patients and their loved ones – when they need help and where they need help. Only the American Cancer Society fights all cancers on all fronts: research, education, advocacy, and patient services. And only the American Cancer Society has the organizational breadth, the grassroots volunteer capacity, and the wealth of public health experience necessary to dramatically improve the lives of millions of Americans facing cancer. For more information about the American Cancer Society 24 hours a day, seven days a week call 1-800-ACS-2345 or visit www.cancer.org.

About the PGA TOUR
The PGA TOUR is a tax-exempt membership organization of professional golfers. Its primary purpose is to provide significant competitive earnings opportunities for past, current and future members of the PGA TOUR, Champions Tour and Nationwide Tour; to protect the integrity of the game; and to help grow the reach of the game in the U.S. and around the world. More than 100 events will be contested on the three Tours in 2005, for nearly $320 million in prize money. PGA TOUR, Champions Tour and Nationwide Tour events have donated more than $950 million to charity since 1938 and will surpass $1 billion this year. The PGA TOUR's Web site address is www.pgatour.com.
Media Contact:
Toby Zwikel/Brian Robin/Dana von Louda 
Brener Zwikel & Associates, Inc. 
(818) 344-6195 ext. 104 /110/107
Palm Beach Today
Palm Beach Today
 
At Your Service
 
A ring pierced through his eyebrow, a reddish-colored goatee makes his style cutting edge. A bold British accent polishes off his somewhat offbeat appearance. One might think he's the kind of guy that would sell you a skateboard.

But, as they say, looks can be deceiving. In fact, he's just the guy that could sell you the world, if you wanted it. His name is Steve Sims, CEO of the Bluefish Concierge.

Though you may not know him yet, you will. The British-born native relocated to Geneva, Switzerland to base his headquarters in South Florida. "It's the place everyone wants to be," said Sims.

Whether you're a thrill-seeking enthusiast, or someone who enjoys the finer things in life, Bluefish Concierge is your ticket to fun or just your ticket "in" to exclusive events. This year marked a milestone for Bluefish, as it became the official concierge to the American Fashion Week's in both New York and L.A. Deep in the metropolis of trend-setting fashion, clients rubbed elbows along the runway with the likes of fashion icon Kenneth Cole and scores of other top designers such as Carolina Herrera as they unveiled their latest frocks and frills.

By Ronald Tee Johnson
Palm Beach Today
Son Vida Estates Magazine
Son Vida Estates Magazine
 
BLUEFISH CONCIERGE

By Lucinda Hull
Un diseño y rendimiento que le dejaran sin palabras
Relájese un momento e imagine cómo sería vivir aquella aventura del que siempre ha soñado, por muy increíble que pueda ser, o quizás, le apetezca más la idea de caminar por la alfombra roja y asistir a la siguiente ceremonia de los Oscar. Para eso está Bluefish Concierge – una especie de mago de Oz, capaz de cumplir cualquier sueño.

La compañía, fundada por Steve Sims, tiene 18 oficinas repartidas por todo el mundo y 85.000 clientes. Es una empresa muy seria, con ideas muy claras sobre los servicios que ofrece, por ello Bluefish Concierge avisa a sus clientes que no es un servicio cualquiera, ni un club exclusivo, ni un grupo de aficionados que irrumpe en fiestas privadas de Hollywood. "Por favor, no nos llamen para recoger su ropa de la tintorería, simplemente no nos dedicamos a eso," dice Sims.

Entonces, ¿qué es lo que hacen? Pues, depende de la imaginación de sus clientes pero, básicamente, no hay límites. Si lo prefieren, los clientes, también pueden elegir entre una amplia gama de experiencias a la carta. El menú incluye la posibilidad de elegir entre una buena selección de aventuras como, por ejemplo, saltar desde un avión a 30.000 pies, ser James Bond durante una semana o, incluso, participar en una expedición al Polo Norte. No hay nada imposible. "La imaginación marca los límites, hay un sinfín de posibilidades. Nuestros clientes tienen la creatividad y el dinero para realizar sus sueños, mientras sepamos satisfacerles y cumplir con sus expectativas, este seguirá siendo un buen negocio" dice su fundador.

Steve Sims, nacido en Irlanda, creó la compañía de forma no oficial hace 11 años, cuando trabajaba como banquero en Bangkok. La idea surgió cuando este irlandés comenzó a ofrecer entradas exclusivas a fiestas y eventos a sus clientes millonarios para que éstos se divirtieran mientras se encontraban en la ciudad asiática. La iniciativa tuvo tanto éxito que Steve creó un club para sus clientes y amigos, dándoles contraseñas secretas como por ejemplo green fish para poder acceder a los eventos, así surgió el nombre de su compañía. Por aquel entonces, nadie había oído hablar de empresas conserjes, por lo que Bluefish no tuvo mucha competencia. Más tarde, Steve volvió a Gran Bretaña pero no tardó en mudarse a los Estados Unidos, donde finalmente estableció sus oficinas corporativas en West Palm Beach, Florida.

Este ingeniero de sueños resume en pocas palabras la enorme demanda que encontró para sus servicios. "La gente estaba dispuesta a pagar pero, sencillamente, no sabían cómo hacerlo". Evidentemente, Sims tiene los contactos necesarios para cumplir los deseos de sus clientes. "Hay que saber a quién llamar", dice Sims. "Para eso creamos contactos". A pesar de que todos sus servicios son VIP, no siempre son caros. "La gente tiene que comprender que trabajamos con los mejores pero no necesariamente con los más caros". No obstante, un cliente tendría que pagar $37.500 para una visita privada al Titanic, unos $5.000 para tener acceso al backstage de los Grammy y $20.000.000 sería el precio de un asiento en el trasbordador espacial ruso.

Hoy en día, un negocio como éste puede ser muy lucrativo y prueba de ello son el gran número de compañías de conserjería que están apareciendo por todo el mundo. A pesar de esto, Bluefish Concierge destaca entre sus rivales gracias a su programa de tarjeta de crédito, Bluefish Concierge Platinum Plus, que ofrece un crédito de hasta $100.000, un seguro de viajes/accidentes de $1.000.000 y una suscripción a la revista de la compañía Blue con el que los titulares de las tarjetas de crédito reciben previo aviso de galas de premios, semanas de moda, vuelos supersónicos y lo último en viajes, así como acceso a eventos privados.

¿Qué tipo de personas normalmente utiliza los servicios de Bluefish? "No hay un estereotipo de cliente", asegura Sims. "El año pasado un chico de 18 años pilotó un MIG 25 y también lo hicieron dos chicas de 60 años." Confiesa que son muy pocas las veces que se ha negado a realizar los deseos de un cliente. "Nos hemos negado a organizar algo que pudiera hacerle daño a la persona que lo solicita, o a una tercera persona" nos explica. Esto incluye las peticiones ilegales de siempre – normalmente relacionados con la droga – y solicitudes verdaderamente extrañas. Por ejemplo, un hombre pidió a Steve que le consiguiera acceso a las instalaciones de prueba de armas nucleares de Corea del Norte. "Un tipo obsesionado con el poder", dice Sims. "Quería detonar un arma nuclear!". El irlandés tampoco pretende cumplir deseos cuyo objetivo sea sólo la de satisfacer el ego de una persona. "Somos muy directos, realistas y muy conscientes de la necesidad de proteger a nuestros clientes, el cliente tiene que decirme lo que quiere que haga por él y, al mismo tiempo, quiero averiguar si se trata del tipo de persona con quien me puedo entender. Un cliente difícil podría estropear un determinado servicio para futuros clientes". Obviamente, Steve Sims tiene muchas anécdotas que contar, por ejemplo, cuando le contactó una mujer cuyo marido, un gran aficionado de los deportes acuáticos, tenía toda clase de barcos imaginable. Aparentemente, ella quiso darle a su marido una experiencia inolvidable. "El hombre tenía tantos yates", explica Sims. "¿Cómo encontrar algo que le impresionaría?". Pero Sims, un experto en su campo, encontró la respuesta. "Conseguimos un submarino militar que subió a la superficie delante de su casa en Miami. Desayunó en la proa y luego hizo un pequeño viaje en el mismo. Fue todo un reto", cuenta Sims.

Otras solicitudes algo más extrañas también han tenido un final feliz. Un agente de Bolsa de Nueva York pidió una lancha repleta de estrellas del cine erótico. Aparentemente, el motivo era dar una fiesta sorpresa a su jefe. Al finalizar la fiesta, el agente de bolsa ya era el nuevo vicepresidente de la compañía!

Sims es uno de esos individuos afortunados que realmente disfruta de su trabajo. "Tengo la suerte de tener el mejor trabajo del mundo" nos confiesa. "Soy el no va más de los fabricantes de juguetes, hago cosas que la mayoría de las personas nunca harían."
Entrepreneur Magazine
Entrepreneur Magazine
By Special Request
Upscale concierge businesses give new meaning to the phrase "service with a smile."
Entrepreneur magazine – July 2004 By Nichole L. Torres
Come on, admit it—you secretly want to be treated like a star, to have the world at your feet and your most whimsical desire fulfilled. Tickets to a sold-out show? Reservations at a high-end hot spot? A chartered flight to Bali? 
You're not the only one. A whole industry has sprung up to make people's wishes come true—and concierge entrepreneurs are profiting from doing so. For the concierge who traffics in the luxury market, it's all about making life a little more plush.
In fact, it's the rare and luxurious that concierge Steve Sims, founder of Bluefish Concierge in Palm Beach, Florida, specializes in. Whether it's one-of-a-kind adventure expeditions or tickets to high-profile Hollywood awards shows, Sims, 37, makes the impossible possible from his locations in Florida, Geneva, Hong Kong and London. (Sims, 37, also plans to add locations in Dubai, United Arab Emirates; Los Angeles; Moscow; and New York City by the end of the year.)
"That's the whole point of this job—the imagination. You've got an endless inventory. These people have the imagination, creativity and money. As long as you can cater to that and manage people's expectations, then you've got a good business," says Sims, who founded Bluefish Concierge in 1996.
While working as a stockbroker in London, Sims spent much of his time attending the hottest parties and making friends with the hippest people. Unbeknownst to him at the time, he was building the connections that would help his business gross about $3.7 million annually. Sims projects 2004 sales will reach more than $5 million.
Sara-ann Kasner, president of the National Concierge Association, points out that "being well-connected is a huge factor. It's lifeblood. You're dead in the water without a team of experts to help you." In other words, you have to be on the best terms with head waiters, club owners, airline stewards, hoteliers and so on to get your clients the best.
With a background as a hotel concierge, Cynthia Adkins had the connections to launch Concierge at Large in 1997. Catering to the corporate set, Adkins, 44, says her business is all about service. "You have to be passionate about it," she says. "You've got to believe that what you're providing is going to make a difference to somebody." From chartering a private jet for a client to tracking down an "impossible to find" skin-care product from Europe, this San Diego entrepreneur enjoys the challenge of coordinating last—minute requests from clients—which have pushed her sales to $2.2 million annually.
Kasner notes that while the high-end concierge market is largely about your network of connections and tends to be most popular in cities such as Los Angeles and New York City (where wealthy people are used to first-class services), there are other niches in the concierge market to explore. Homemakers, new mothers, academics—all kinds of people with limited time are learning the advantages of a concierge that makes dinner reservations or arranges an appointment with the cable guy. But it's not just about errand running—it's about coordinating people's responsibilities and desires.
"It's a growing industry. Everybody's getting on the bandwagon," says Kasner, whose organization has grown to 500 members since its launch six years ago. "When I became a concierge [a decade ago], the average person came up to my desk and said 'How do you pronounce that word, and what does a concierge do?' And now, the average person not only knows what the title means, but [also] exactly what it stands for—that level of high-end service."
WHAT'S YOUR PLEASURE?
Created a James Bond week in Monte Carlo, Monaco, for a successful businessman for $350,000. The Octopussy-themed event included actors and leather-clad women who "kidnapped" him.
Arranged MiG flights out of Russia.
Arranged for a famous celebrity to sing to a client's wife as a surprise.
Set up a "spontaneous" marriage proposal for a client, complete with a bagpiper on a pier at sunset.
Booked rare submarine dives to see the Titanic for a group of New York City accountants
Planned private tours of haunted castles in Europe for a client planning a not-to-be-forgotten family vacation.
Stitch Magazine
Genre Magazine
DNL Magazine

The password to my "member's-only" club, a green wooden shed on the bank of Niagara River, complete with Nintendo and Nirvana lyrics on the wall, was "Biscuit." Simultaneously, on the other side of the world, Steve Sims, then working as a banker in Hong Kong, whispered "one fish, two fish, red fish, blue fish" to gain entrance into an exclusive private party. Fast forward sixteen years- "Biscuit" has dwindled into a faint memory and the now infamous Seussian phrase "spread like a bad rash" resulting in Bluefish Concierge, a global business spanning six continents, with 400 offices and 85,000 clients. Bluefish, owned 100% by Steve Sims, specializes in the coordination and delivery of events, experiences, travel and transportation. Whatever your desire, Bluefish boasts the ability to coordinate any type of experience from spending a week VIP style in Ibiza to orbiting in space. Their unique approach allows clients to experience the Really good life sans the velvet rope draped around it.

Sims, an outlandish Brit who prefers coffee to tea and claims too many tattoos and piercings, hopped around the world for 16 years using his impressive social circle to rub elbows with other A-listers before creating "The elite network. A grand mix of socialites and business owners, Sims' connections are the very core of his thriving business. Foregoing world-renowned cities, Sims chose to house the Bluefish international headquarters in West Palm Beach because of the new undercurrent; a cool funky vibe replacing the long time stereotyped culture of millionaires clad in mismatched argyle and plaid. Sims attributes this new vibe to the diversity of the area, professing "it is greater than that of NYC." Because WPB is smaller, "you can go anywhere and never know who you're sitting next to. It could be a bum or it could be a millionaire." Wishing to draw worldwide attention to WPB and contribute to the beauty of our emerging skyline, Steve has purchased a building in the heart of Clematis Street. That's right; Steve Sims is here to stay. And, indisputably, it will only be a matter of time before Bluefish Concierge evolves into a common household name. After all, any company whose global success is partially based on its' underground self promotions- random splashes of their iconic logo, a devious looking bluefish-certainly has the right to make a social movement.

Rebeckah Goodrich – DNL Magazine
Palm Beach Post
Palm Beach Post
 
Bluefish makes travel dreams come true
By Mary Thurwachter, Palm Beach Post Staff Writer

Picture yourself at the Grammys, ogling the likes of Justin Timberlake, Shania Twain, Beyonce and 50 Cent.

Impossible? Not necessarily. But, as they say, it's not what you know, but who you know that counts. And unless you're a close chum of a musical legend, the who to know is Steve Sims.

The president of BlueFish Concierge, a high-end travel services company based in Delray Beach, specializes in one-of-a-kind trips. Sims recently was named a supplier of ticket packages (starting at $4,000) to the Feb. 8 Grammys in Los Angeles. His VIP tickets include backstage passes and admission to a private reception party for Sting. Ticket holders will get to hear Elton John, Billy Joel, Melissa Etheridge and other greats "Sing Sting" and pay tribute to the legend.

Sims has already sold dozens of tickets, including some that sold for $78,000 — but that one included lots of extras such as a helicopter. Get a hold of him quickly, and you may be able to scoop up some of the remaining tickets. He's already sold all his VIP Oscar tickets.

A British expatriate who moved to Delray Beach four years ago, Sims,37, was a jet-setting stockbroker who got into private banking."I handled clients in Asia, and I started hanging out at the best parties and meeting affluent people," Sims said. "I became a social hound. We (he and his well-connected friends) just really started networking in the early '90s before anyone knew what networking was. My clients were worth millions and billions."Sims and 16 of his buddies formed a tongue-in-cheek club called the BlueFish Boys."We picked that because it was a silly name, and we sat down in Cannes and talked about forming a boy band," he said. "It was a joke with much drink that made sense at the time." The "boys" would get invited to parties at select clubs all over the world. Each would bring 10 clients who used the code word "BlueFish.""Then people started calling us, wanting to get in, and we started to be used as a concierge before we realized what we had," Sims said. "I'm the guy who woke up and said, 'We're onto something here. I'm going to incorporate.' "That was 1996, when headquarters for the company were in Geneva and London. Today, the corporation, has 150 representatives worldwide, with clients who include Steve Tyler of Aerosmith, Prince Albert and most of the cast of The Sopranos. Not all the clients, however, are rich or famous. Sometimes, they are just regular folks who have saved for years for a dream trip. Two years ago, Sims took a group of clients to Indianapolis to see a Formula One race. Among his guests were an elderly farmer and his wife from England who make about $30,000 a year; a motorcycle builder;and, as Sims said, "a man who owns a computer company named after a piece of fruit." "We all sat at one table, and for one day, all of them were equal, drinking champagne and walking into the pits, meeting drivers and getting the same goodie bags," Sims said. "They all had so much passion for the sport, and there was no talk of bank accounts." News of BlueFish spread by word of mouth, but the company also has a Web site –www.thebluefish.net — and a newsletter with more than 30,000 subscribers. "We decided early on we would not be a membership club," Sims said. "We don't charge membership. We make money on commission. We have contact to 90 percent of places people would not be able to get into otherwise."Sims and company recently arranged for the head of a well-known software company to be James Bond for a week. The adventure, which cost just under $200,000, included a reproduction of the yacht from Octopussy and a mock kidnapping and 007-type rescue. Sims can make one phone call and have a client on his way to explore the Titanic (cost: $37,000, which includes a cargo ship to take you there and a submarine to ride up and down in for three days). He could, for a cool $23 million, get someone on the next Russian space shuttle. Or, he could arrange for a ticket to the Monte Carlo Grand Prix as a guest of the Sultan of Brunei for upwards of $5,000.

"But you've got to know who to phone," he said. "That's the whole point of networking." All his tickets are VIP, he said, but not all of them are enormously costly. He could, for example, get tickets starting at $25 to the recent Palm Beach Cavallino Classic at The Breakers. "People need to understand that we deal with the best, which doesn't necessarily mean the most expensive," Sims said. Of course, coming up with the money doesn't guarantee Sims will arrange entrée for someone. He spends a considerable amount of time talking to a prospective client ahead of time. "The client needs to tell me what I can do for him," he said. "I want to know if they're the sort of people I get along with," he said. An obnoxious guest could ruin it for future clients. "I need to know if I can hold a conversation with someone…. You need to listen to people to know whether you can be comfortable with them. If you're on a 10-day trip, you've got to know who you're going to be stuck with."

He has and does refuse people, especially if he finds their motives are personal gain, if they are mentally unstable, or if what they want to do will harm others.

"I am privileged to have the greatest job in the world," Sims said. "I'm the ultimate toymaker…. I do things most people don't get to do."

Palm Beach Post
PENTHOUSE MAGAZINE
95 EAST
EssentialStyleForMen.com
We recently had a series of articles outlining what kind of vacation we would have if we won the lottery.  $2,000,000 can buy you a lot of kick-ass memories.
Organizing and planning those memories, however, can be more "pain in the ass" than "kick ass".
Fortunately for the world, there exists ultra high-end and exclusive concierge services that cater to folks who actually do have upwards of 6 figures to spend on vacations.  One of those concierge services is called Bluefish.
Here's a little more about them according to their website:
Don't be fooled, Bluefish is not for everyone. Far from it! Exclusivity reigns supreme here at Bluefish. Unique, once-in-a-lifetime memories that are beyond imagination are the Bluefish trademark. From supersonic military jet flights in Russia, to submersible dives in the Atlantic Ocean to view the Titanic, to a spectacular flight into space, the Bluefish team of travel experts places you in astonishing life experiences and offers you the finest travel opportunities worldwide.
Wait, I like jets…
So the next time the mood strikes you to book that F1 dream vacation in Monaco, give these guys a call (and we're more than willing to come with you, fyi).  Just one piece of advice: they're not the people to call when you need to book your dinner reservations for Chili's.  That actually might just piss them off.
For more information, you can visit their website atthebluefish.com.
Canberra Times
Reeling in a big one
March 13th 2010 – Canberra Times
According to can-do lifestyle company Bluefish, no dream is too big, no request too difficult and no mission too impossible, but as Michael Ruffles discovers, dreaming comes at a price
Ever dreamed of being James Bond? One computer tycoon did, and his wife wanted to make it happen.
Girls dressed in latex abducted him, pyrotechnics were arranged for his escape, car chases were orchestrated and pretend gun fights took place in the streets. The adventure took place in Monte Carlo and St Tropez, and cost a cool $US350,000 ($A383,000). His wife began with a much more modest experience, and price tag, in mind.
Turning dreams into reality is what Steve Sims his concierge and lifestyle company Bluefish do best. For 16 years they have helped their clients climb mountains, skydive over them, walk red carpets, submerge to the Titanic, almost anything that is legal and purely for pleasure. ''Where there's a will, a way and a chequebook, it's going to be done,'' Sims says.
Relaxed and comfortable in a dark T-shirt, a shock of red hair on his chin and an otherwise smooth head, the human rolodex speaks with humour and forceful, though unforced, enthusiasm. In the previous 24 hours he had flown to Melbourne, seen a flight simulator and met AFL stars.
Sims is also checking Bluefish's new Australian office, a move which has been years in the planning as the company expands its reach around the globe. Bluefish has representation in the United States, Canada, Europe, Russia, the Middle East and north Asia. The Melbourne office is to answer growing demand from Australia and New Zealand.
There is no such thing as a typical Bluefish client, but the single defining factor is they have a dream.
''Now I'm going to get philosophical, but from a young age we're taught to colour within the box and not to step out of our parameters and not step over the line, and that continues as you get older,'' Sims says. ''As an adult you're taught not to look above your pay grade, you can't go and do that, and you can't sit with those people. There's kind of a king's clothes philosophy that goes on. We're here to say, 'You can walk down that red carpet, we can get you down there.' ''
How he makes the improbable possible largely depends on good relations and the reputation Bluefish has built. Vetting the clients is also important, so anyone with ulterior motives of financial gain are turned away.
Having the right people working at Bluefish is important. Sims emphasises to them that the client comes first and they should not let the jetsetting and partying perks seduce them. ''If I had tricks, I'd write a book, sell it and retire. There is no trick.
''You want a trick? Most people don't ask. You'd be amazed, nine times out of 10 if you do it in a polite manner they'll say, 'that's okay.' ''
Often the opportunities come another way, with companies creating adventures approaching Bluefish. One of the more stunning examples of that was when eight clients took the chance to see the Titanic on the bottom of the Atlantic Ocean.
After James Cameron filmed the movie Titanic, he made several voyages to the shipwreck on a submarine to make a documentary, Ghosts of the Abyss. To offset some of the costs passenger seats were sold, and a number of trips were made after filming had finished. Eight Bluefish clients were among those who made the journey.
''They thought it was phenomenal, they thought it was eerie,'' Sims says. ''You're basically going down in something like a tub. There was one lady that we had who had dental surgery a few weeks before, and they wouldn't let her go down there because the pressure even inside would have burst open her gums. The pressure down there is intense.''
Extremes are part of the job. Just now Bluefish is finishing preparations for a world-first attempt for a group to skydive on to the North Pole, then cut a hole in the ice and dive below it. ''It will be the first trip above and below the North Pole in one hit. You can't exactly get out and get into the Marriot and warm yourself up, can you? It's a hell of a trip.
''We did a tandem skydive over Everest last year, which I've got to admit is one of the only things I was near on thinking I would do. Former Navy Seals strapped the poor sod and then just jumped out of a plane, oxygen mask and everything because of the height, and came down above Everest. They landed on a base camp.''
Big and bold as Bluefish is now, its origins were humble and its existence a ''total accident''. An East London boy with Irish ancestry, Sims worked for a bank and freely admits he was not very good. With a bad accent for the telephone, he struck upon another way to enter the world of the rich.
''I used to hang out at bars and nightclubs in the evening, in lounges, trying to find out how the rich operated. While doing that research I got to know people and meet people and saw where they went and what they needed.
''I started to have private parties for the banks, inviting all these rich clients for wild, crazy parties. And they'd come over and say, 'That's great, but I'm off to Cannes next week, do you know anyone in Cannes? Do you know anyone in Monte Carlo, in the Hamptons?' Before you know it we were circulating around, building relationships, but it was always for the benefit of the bank to look after the bank's clients.''
At the same time he noticed a division between parties, and could not understand why some people were allowed in when others were not. He started saying, ''I'll get you in,'' and before he realised it he was launching a social network, lifestyle and concierge firm.
The beginnings sound organic, but he laughs that this is ''a very polite way of saying a cluster bleep. It went off in all sorts of different directions, and when you open up someone's imagination and say 'you can push that button' it's amazing what buttons are pushed.''
Growth has been based on demand, but new ventures and expansions are now meticulously planned. The Australian office has taken years, and a soon-to-be- launched product, Blue by Bluefish which Sims will only say is a more affordable and accessible way of experiencing luxury, has been developed with care.
Enduring relationships also means time can be saved. One of the more popular activities is a flight in a MIG jet, the largest demographic is women in their 50s for birthday parties, and organising that is easy.
''You want to fly a military jet? We'll send a text or an email, we won't even make a phone call because we're used to doing these things now.
''Banking's strange because everyone's cautious, and if you're making money they don't say thank you and if you're losing money then it's your fault. In this situation I'm dealing with an endless commodity, which is your dreams. Everyone has dreams. Sometimes you don't have the money to be able to afford them, that's where our Blue by Bluefish comes in, but we like to make things achievable for people.''
Flights in military jets, experiencing the thrill of being in race cars, training with the LA Lakers, playing basketball in Madison Square court and walking all shades of red carpets have become part of life for Sims. And while he stresses that ''I don't want Be James Bond for a day with Bluefish to sound saintly'' some of the biggest thrills he has comes from seeing the delight on clients' faces.
''You've got a guy who's maybe in charge of 300 staff, he's worth multimillions, every day he's used to bossing people around, all of a sudden he's like a little giggly schoolgirl in front of you because he's just been able to do something,'' he says.
''We had a client about a month ago whose kids wanted to see the Jonas Brothers, we got them backstage, got them to hang out, meet and greet, signed some stuff and they were there for about 20 minutes just kicking around with the Jonas Brothers. The dad literally texted me and said, 'I am the Father of the Year, thank you.' That, you can't help but thinking that's really nice. He's paid for it, so it's not a freebie, it's not a charity, but you've been able to give someone their dream. You break someone's parameters down, where does it end? I've gone all Freud now.''
Off limits for Bluefish, along with law breaking, are those who aim to profit from their experience or being close to celebrities. People who want backstage or after-party access to get their products endorsed, or want to be snapped by the paparazzi with the rich and famous to land a reality show, are not welcome.
''We can see through those, we've been doing it for long enough now,'' Sims says. ''We respectfully, and sometimes not so respectfully, say no, we're not doing that. There's a lot of people who try to do it for business. We're pleasure, we're not business.''
In one case that springs quickly to Sims' mind, a happy ending was found because he turned two prospective clients away. Bluefish provides access to monthly parties at the Playboy Mansion, and two gay stockbrokers from New York rang to purchase tickets. Sims took the call after one of his staff members said, ''Something's not right.'' When the conversation turned to travel they became passionate, when Sims tried to drag the conversation back to the Playboy Mansion they deflated. The only reason they wanted to go was because of peer pressure.
''They had to do something to show they weren't gay guys. I said to them, 'Don't do that. I'll send you two ticket stubs, take the money and pay for the trip you really want to do.' And that's exactly what they did. We turned the clients away, we sent them the stubs, and they went off and did their travel. As far as anyone's concerned in New York they went to the Playboy Mansion.''
What Sims does not say is that everyone at the Playboy party that month could enjoy themselves without the sight of two men hovering awkwardly in the corner. He managed to make sure everyone was happy, and there is no small trick to that.
BLUEFISH Launch MasterCard and Visa
BLUEFISH Launch MasterCard and Visa
By CardTrak.com
A true insider's credit card is being launched for consumers who want everything from an African safari to space flight in the first civilian space shuttle. The new "Bluefish Concierge MasterCard" is targeted at corporate executives, celebrities, professional athletes, and other high net-worth individuals. The card, a product of a partnership between Bluefish Concierge and MBNA, offers credit lines up to $100,000 and $1 million in common carrier travel accident insurance.
Bluefish Concierge is a global firm that organizes white glove access to exclusive events and travel experiences. The company opened its U.S. offices in South Florida this year and has a worldwide network of over 150 representatives. Established since 1994, the firm also issues a monthly insider's newsletter to 50,000 clients. For more information visit: www.thebluefish.com.
MBNA is now owned by Bank of America
* This card is no longer available.
Dream-Fulfillment, Inc.
The

 Bluefish Takes Clients Above and Beyond the Realm of Possibility
Written by: Panagiotis Giokas
New Year's resolutions are rarely unique. Most people are resolute about ceasing bad habits (to quit smoking, to limit drinks to four nights a week), or to starting good ones (to exercise more).
However, there is an ambitious minority that seeks to avoid the cliché; their resolutions are more about experience than lifestyle. Some don't want to kick the Marlboros as much as they want to see Mount Everest from God's point-of-view. Some don't want to limit their drinking as much as they want to break the sound barrier in a Russian MiG. For this ambitious few, bulking up just simply isn't enough — some want to be James Bond. For them, there's only one place to turn: Bluefish.
Bluefish, a virtuoso travel agency and concierge, provides clients with memoir ammunition — once-in-a-lifetime experiences that tip the scales of eccentricity, imagination, or sheer bat-shit craziness. They've sent clients from the top of the world to the bottom, on skydiving trips over the majestic Himalayas and to explorations of the Titanic in the murky depths of the Atlantic. As CEO Steve Sims says, "Bluefish takes your vision and injects it with balls."
For one particular client, the dream was the "James Bond experience" — to hole up in Monaco hotels, to elude an Asian man in a bowling cap bent on assassination, etc. Bluefish put it all together, from casting the actors, to booking the hotels, to manning a futuristic yacht with bikini-clad "10s" — a logistical nightmare brought to fruition by pure will (and cash). "What excites us is being challenged," Sims says. "Any travel agency can book you a hotel or get you a reservation. We'd like to be asked if we can get you to the moon, and that's not cheap."
As with anything, the cost is relative to the size and complexity of the project, and Bluefish fields inquiries with budgets of 5K and up. However, it's not that the dreams of those with smaller budgets aren't as important, it's just that Sims and Co. are fulfilling their own aspirations by being the genie in your bottle. Their passion is taking your fantasy of, say, smashing a car halfway to hell and evolving the concept, and eventually producing a professional demolition derby in your front yard — which is what Bluefish delivered to one specific client, a Harvard professor. Sims adds, "We can't make up your dreams, but we can help you see what's truly possible."
In April, Bluefish will be sending clients to the Arctic on the first-ever civilian "above-and-below" expedition, starting with a sky-dive over the ice cap, and ending with an exploration of the depths beneath. They have also recently launched their own iPhone application that serves as an elite local events calendar, personally vetted by Bluefish professionals. It's a quality-control system, a fitting symbol for a company whose brand is centered on improving the quality of life's experiences for its clients.
Virtuoso Focus
The founder and CEO of Virtuoso Member Bluefish in Los Angeles, CA talks about the beauty of panang curry, the craziest client request he's fulfilled and his favorite place that's frozen in time.
What's your favorite restaurant and why?
The cheeky answer is the next one. I get bored easily and like to travel the world and try new food. The real answer is a tiny Thai restaurant just off Sukhumvit Road in Bangkok. It was a locals restaurant. There are so many restaurants you try as a foreigner that are very posh. When we spoke to locals, we asked where's the most authentic local haunt? There was nothing pretentious; it just had good food. I always like the panang curry. It's gorgeous.
What's the most unusual client request you've ever had?
An Australian client wanted to race cars in the Mojave Desert. He told a few friends and they told a few friends. We set up a private event for 12 people with five supercars: a Mercedes McLaren SLR, a race Porsche, a race Ferrari, a Lamborghini and a Jaguar race car. Each car was worth about half a million dollars. That was pretty exotic. They practiced in the morning with a professional race driver. In the afternoon we brought out the speed guns – as soon as they hit 200 miles an hour, they brought the car in and took out the next one. The following day six of them went up in an L-39 military training jet. Two military jets did a mock dogfight over the Southern California coastline. Two people at a time went up for about 40 minutes each. The Australian screamed like a 12 year old at a Justin Bieber concert.
What destination have you visited more than any other and why?
Probably Palm Springs. It's like in a time lock: the architecture, the people, the pace of life. Any travel expert knows you spend all your time flying to cities that all blend together, but when you go to Palm Springs it's just locked in the '60s. It's just an hour and a half away from me in LA so I can escape and spend the weekend there. We probably go there half a dozen times a year.
What's a surprising thing few people know about you?
People think I'm incredibly interesting but the people that know me know I'm incredibly dull. I love spending time with my family at home — my wife, my three kids, my two old English bulldogs and a Shih Tzu. I love cooking shows and barbecuing things.
What is your proudest accomplishment?
Getting married to my childhood sweetheart. I met my wife when I was seventeen years old in London, married her and then traveled the world together. She's gorgeous, so that's the easy bit.
Where's your next trip?
Italy this summer with my family. We'll probably concentrate on Venice and heading down the Amalfi coastline. We're going there because my wife told me we are. We've been all over the place but that's one location we've never been to. So that's why we're going.
TheVine
Meet the World's Most Extravagent Travel Agent
Written By: Matt Shea
Organising trips for the rich and famous sounds like the pits. But Steve Sims is no ordinary concierge, and his company, Bluefish, no ordinary travel agent.
Have a swimming pool of ducats lying about and a few dreams or fantasies you need fulfilled? Then Sims is your man. He can arrange anything. And by anything, we mean – yeah – pretty much anything. Not bad for a British bruiser who started his working life on a construction site.
Want to visit the Titanic? No problems. Fancy a trip to the international space station? Suit up, pal. As long as you have the liquidity, Sims has the ability. Just make sure your wish doesn't outstrip either the laws of physics or the laws of the land, and you're good to go.
But you also need the personality. Sims's humble background means he's imbued with an egalitarian streak, and he doesn't take kindly to Richie Rich types looking to throw their weight around. If he can bump into you in the street and suggest a beer, he says, then you're right for Bluefish.
Not that there are too many places left. This is a full concierge service, and Bluefish can only cater to so many clients. Sims has been winding down the intake and capping his client list at just under the four thousand mark. As of August last year, he only had room for fifty more – then the books would be closed until someone was "either kicked out, left or died." But don't be disheartened, because Bluefish have also recently launched Taste of Blue, where suckers like you and I can sample high life on the low dough. Aces.
This might all still be a bit hard to wrap your head around. So TheVine connected to Sims to get the run down on his background and what exactly it is that he does for clients such as Jesse James, Sarah Ferguson, Richard Branson and Michael Schumacher. Over Skype Sims was gregarious and self-deprecating, his can-do attitude infectious from as far away as Los Angeles – it's easy to understand why his personal service is such a hit with clients.
I think the first question I have to ask: were you a fan of Fantasy Island as a kid?
Ha. Yes. Who wasn't?! But yes (laughs).
You started out as a construction worker in your teens. At the time did you figure that's what you'd be doing for the rest of your life?
My father owned a construction firm, and everyone one on the construction firm was basically a relative. And I don't think there was much speculation that that was my path. And I remember vividly the day: I was on the building site, it was raining, it was cold, I'm on a line, and I'm looking next to me and there's my granddad, my cousin, my father. All generations of my family in the bloody cold getting their hands ripped up, and I just thought, "There's my future." I was the youngest and I just thought, "I don't want to be 75 and still be on the building site." I must have quit just days later.
Because I think your role at Bluefish has a touch of the vocation about it – a live to work, rather than work to live aspect. Fair comment?
It's that classic line: "If you find something you love you'll never work a day in your life." That was it. I suddenly discovered that. Even today, it's raining here in Los Angeles and people can't drive and I had two meetings in San Diego with two extraordinary, interesting clients who do become your friends, and that was my day. So I spent the day, even though it was raining, even though it wasn't very nice traffic, having lunch and coffees with really cool people who've now arranged to do certain things that I've got to put in place. What a hell of a wonderful day. Even a bad day is brilliant.
You went from construction to working with American Express, and then stock broking. There's the story of starting on a third of the wage of others because you weren't a university graduate. Did that help give you the hunger to thrive in business?  
Yes. I was employed and [American Express] got me mixed up with somebody else, and when they realised I wasn't a graduate they gave me that carrot. Bear in mind that I'm a big lad, and I think the guys in the office thought that if they basically offered to give me no money that I'd bugger off. So when I stood there and said, "Alright, I'll do it," I think they were a little bit mystified. But I was very happy I did it that way; it gave me the growth and the focus to actually prove what I'm worth. And I still carry that today. Bear in mind that I get paid when a client actually gets to do something. I don't get paid to attempt to get you an experience, or attempt to get you to hang out with someone or get access to something. I get paid when you achieve your goal.
Paid on delivery.
Exactly.
It's interesting. You went from handling other people's money to handling their dreams – is that a fair way to look at it? I'd imagine the second is far more satisfying.
It is. It is. And the funny thing is, when you're handling other people's money and it goes up four percent, you don't instantly get a phone call from your client saying, "Thank you. Thank you. Thank you!" And yet, you are the devil when it goes down four percent. When you're dealing with someone's dreams, they can't stop hugging you when it's achieved, and it's such a wonderful feeling. It's an addiction! I've never thought of it before but I think you've just hit on something – it's an addiction and it's an incredible high when someone gets to do something they dreamt of our didn't think was possible. It is a high.
What's it like dealing with the rich or super-wealthy day-in, day-out? You just mentioned you've been enjoying some good company down in San Diego. Most would assume it gets tiring looking after rich people.
It's not tiring. It's exhilarating. And one of the strange things that people don't realise is that my clients: yes, some of them could buy a country – I have some clients who own a country – but I also have clients that are the same as my roots. They work hard. They haven't got private jets sitting in the garden, but they want to do something a bit special for their birthday or wonderful for their loved ones, or they want to celebrate an anniversary. So I get clients on a budget who will contact me and ask, "Hey, can we do this for 'x'?" And what I want to hear first is the dream and how much of a reality that dream is that they want to be achieved, and whether or not they do [really want it achieved].
And you're pretty choosy about who you deal with.
Yeah. I had an attitude many, many years ago that I only wanted to deal with people I liked. And that is probably the most stupid idea in business and one that will have you go broke really fast.  And I think my luck is that I've spent most of my life being stupid and that I didn't pay attention to the fact that this was a stupid idea. So while there were times in my life when I should've sold myself out to earn money, I never did. And so if I didn't like a guy, I didn't care about how much money he had, I wasn't going to deal with him. And now I'm in the position where I can tell you that I have amazing people as clients and can continue that way.
You've talked about being able to pick the real rich people as the ones who are dressed down rather than up. What about when people meet you? You're a big, burly guy – a former construction worker – are people surprised when they meet you?
They are if they don't know me. The classic one is where someone will be at an event or a party, and there's a client who knows what I'm capable of. And they will turn around and make an introduction to me, and you'll see the other person physically alter their positioning, wondering who the hell is this bald fella, what is he doing. And half the time they will disbelieve everything I do. I've been called a scammer to my face. People have literally listened to me and they've walked away saying, "That's a scam. That ain't possible." To the people that do work with me and do know me, they expect that I'm always in a black t-shirt and jeans and a pair of Cons or Vans. I'm always that person, and I treat people as I want to be treated. But you will find that there are a lot of naysayers out there who don't believe we can send someone into space. "You can't send people into space!" They just naturally want to believe that it can't be done.
I think the biggest question I have is, how do you grow a business like this? Because you couldn't start with all the connections you needed. At what point could you say, as you like to, "I can get you into anything"?
That's where the stupidity comes in (laughs). I never thought this was going to be a job for me. I never, ever thought this was going to be a real life. I used to go to these events and parties that I organise now just as a bit of fun. And I never, ever thought it could be a career. Who coming out of school would've been asked, "Do you want to be Mr Roarke? Do you want to be the fantasy maker?" No one would have ever believed that was possible.
I wanted to be a banker and I was terrible, I was appalling. So all the time I had my focus on that and could treat Bluefish with the fun and curiosity I wanted it to be and not rely on it to pay my wages. And if you have to do something for a living, your attitude changes. If you don't have to earn any money doing something tomorrow, what would you do? It's a completely different mindset, and that question explains how I came into it. Because I didn't have to make money with Bluefish my attitude was completely different: if a guy was an arsehole, I didn't want to deal with him. I never cared. It didn't tickle me, it didn't engage me, and if I wasn't engaged I wasn't doing it.
When someone approaches you for an experience, what are they looking for typically?
Half the time people don't know what they're after, which I find amazing. We're taught as children to settle, to get used to things not working. Life treats you a certain way and you can't always get what you want. You take what you're given and you don't get upset. We're taught that as children. So when it comes to your fantasies or dreams, you look at something on TV, you look at a movie, you already know that half of it is superimposed. When you think about actually doing something yourself, you've got so much scepticism, cynicism and expectations of not meeting your requirements, that when people come to me, they actually dilute that dream.
There's the story of the guy who sang on stage with Journey. That guy came to me and wanted to meet them. His dream had become so diluted. The first thing I did was interview him and he told me about how he used to be in a Journey tribute band and he loved this and wanted that and so on. And I asked him why he didn't want to sing with them. You know what his words were? "You can't do that." So straight away he was bringing up these obstacles. The second I heard him on the phone tell me that we couldn't do it, that's what I knew we had to do. 
So much of this is about making an ordinary person experience something spectacular, but I'm wondering how much of it is making a celebrity's life normal. I enjoyed the story of arranging a drink at a pub for Matt Damon. How often do you have to do that sort of thing?
It is funny. We do get celebrity clients – and then there are others who think they're celebrities (laughs) – but these people want to experience things without being bothered. And they've gotten to a position now where they want to go somewhere and they want to enjoy it. Most of the time this is because they have family involved, so we have to step in and handle it and make sure they do have the protection.
The world's been in a funk economically since '07. Has that affected business much?
Yeah, and I think anyone who says it hasn't is lying. When your financial ability hasn't been affected, your psychology has. For example, of all the people who could afford a Rolls Royce five years ago, most of those people still can today. However, a lot of people don't want to buy a car like that now and drive it down the road in the knowledge that people are losing their homes. So there was a psychological feedback that came back in. That being said, the rich have always been rich and the smart will always stay rich. We found that probably pre-2004 maybe five percent of our business came from outside of the US, and that in 2007 probably about 60 percent of our business was outside the US. I would say that 70-80 percent of my clients are based in the UK and US, but internationally my revenue is probably 60 percent outside of the US.
Have the type of events people are organising changed? Are people being more discreet than they used to be?
Yeah, they are. There was a time when all the big banks and all the big money houses around the world would throw a big party and it wasn't a good party unless everyone knew about it. They are still throwing the parties, but they're making sure that they keep it quiet. They don't want people to think that they're wasting money, they don't want to draw unnecessary attention or disapproval. People would look at you and comment, even though it's your money and you earned it.
I look at what you do and often it's pretty gnarly stuff – trips to the Titanic or jet fighter rides or demolition derbies. Does that ever create difficulties? Do you ever have someone bitching about the sailor food on the Akedemik Keldysh, for example?
Here's a funny thing – and the next Titanic dive has been postponed to 2014 – but I had a client who's doing the trip contact me saying, "I'm incredibly busy. Is there internet access on the Keldysh?" And I said, "No. There's no internet access on there." He went, "Fantastic, I'll take two." We notice this when we book travel, but it's very hard to be somewhere in the world where you can't be contacted.
So when you go on holiday with your family, with your wife, you get off the plane and all of a sudden you're on the beach and you're cold turkey. Our clients can literally freak out because they're sitting there and suddenly they're thinking, "I've got no way of communicating. Is the office going well? Is the office going to plan? Now I'm panicking." So when we plan trips for our clients we work them in. The first three days are going to be cooking courses, discovery, maybe offshore fishing – something so that they land, they wake up, and they're doing something. So that their mind gets to reset on something different from what the desk and wallpaper look like back at home.
So, what is the craziest thing you've ever organised for a client? And what's your favourite?
I'm not quite sure it's the craziest, but almost weird to the point of funny. And it came recently and we spoke about it at lunchtime today. I have a very, very affluent family who are travelling over here from another country, and they contacted me on Friday: they need a squirrel in a cage, delivered for a birthday party this coming Sunday in Miami. It needs to have a rotating wheel made out of gold. I asked them – because English is not their first language – I asked them, "Do you mean a hamster?" I thought they must have had it wrong. Who wants a squirrel? But they came back at me and said, "No, a squirrel." So that's one we're doing this week.
But I think one of the coolest ones: we've been doing a lot more business in Australia and I love that – I want to do more down there and I want to open up a big office – but we had this client who was on an adrenaline rush and we shoved him in a bunch of cars that he drove: five supercars in Nevada, each one of them to 200 miles an hour before he was allowed to get out and jump in the next one. Then, the following day, he gets in an L-39 fighter jet and flies it over the Nevada desert. And this doesn't stop: because then he goes to the south of France where we've arranged for him to drive a current Lotus Formula 1 car around the Paul Ricard circuit. And then, finally, he went to Silverstone in the UK and [former Grand Prix motorcycle racer] Randy Momola drives him around the racetrack while he's pinion passenger on a specially converted Moto GP bike. And they actually went over the start-finish line on the front wheel. It was just insane. My client was a big guy – maybe six feet two? – and Randy Momola is quite small. So this guy is hunched behind a tiny jockey of a fella and then the guy actually goes over the front line on one wheel. It's insane. In terms of adrenaline junky stuff, that was it.
In terms of other whacky stuff, I've delivered a Ferrari edition Segway to Miami, I delivered sixteen Birkin handbags, which all had a four year wait list – sixteen in four weeks to the middle east – I had a lovely couple who contacted me and said, "It's about time we did the mile high club." So I had to organise that and make sure the pilot and everybody was aware of the diplomacy needed. My life is interesting, that's for sure.
One of the things that's interesting to note is how direct involvement you have with the business. I think I checked that you had two thousand employees, yet you're taking this call, not a marketing representative. You haven't dealt with me through a PA. Turning that to your clients, is it important to be open to direct communication like that?
Well when you apply to be a member of Bluefish, you have to complete an application form that's on our website and then one of our representatives will contact you. I can tell you that I have made 98 percent of those phone calls personally. So I'm very much into it.
And that casual, familiar attitude at Bluefish – that 'have-a-beer' theory, as you like to call it – how much is that a part of its success?
I didn't realise it was, but I felt like we built up a sub-culture and a family feel, and I think it's a single element that has made Bluefish what it is.
And what are the plans for 2013 and 2014?
We've always known that the problem for Bluefish – and it is a problem – is that there's a ceiling on how many people we can give this bespoke service to, and there are people out there who just want a little piece of it. Maybe they want to do something a little quirky and a little bit fun that's maybe $200 or $2000. So we launched a company called Taste of Blue, and that's Bluefish-approved experiences and itineraries from the seventeen years of relationships we've built up. At the moment I think there's about three hundred things on there, ranging from driving a tank over a car to New York Fashion Week and a whole host of other things – flying a military jet, hanging out with Mick Fleetwood backstage. There's a whole host of different things on there. Over the next four months we'll be busy having one thousand current itineraries and we're going to be focussing globally, and you're going to be able to select whatever country you're in or whatever country you're going to and see those experiences as a priority.
DNAInfo.com
Concierge Services Help the Rich Buy Their Way Into Fashion Week
By Heidi Patalano
LINCOLN CENTER — You don't have to be rich and famous to get into Fashion Week.  Just rich is fine.
Mercedes-Benz and American Express may be the most visible sponsors of New York's Fashion Week, but wealthy individuals buying their way backstage are also keeping runway shows afloat.
High-end concierge services broker deals that allow well-heeled clients to access runway shows, after-parties and private previews of designer collections.  The clients' payment for admittance comes in the form of huge purchases from a designer's line –or even picking up the tab for a show's after-party.
"Everything's for sale," said Steve Sims, founder of luxury concierge service Bluefish.  His company was the official concierge of New York Fashion Week in 2002 and 2003.  Today, he continues to get his clients into fashion events across New York City.
His company has gone as far to arrange a private "mini-Fashion Week" at a New York hotel where seven up-and-coming designers showed off their wares to the employees of a Mexican bank, he said.  Another client paid to have his daughter walk the runway for an emerging designers' show.
Sims said that most of his Fashion Week clientele hails from Asia, Australia and Europe.  American clients from Dallas, Chicago and Boston, too, get Sims' company to find them front-row seats at the hottest shows.
For the internationals, the concierges build a weeklong itinerary around Fashion Week, including chauffeur-driven cars, restaurant bookings and red carpet events.
Rachel McIntyre, found of luxury concierge service Black Door Experiences, said that while booking a seat at one fashion show may not be extremely costly, most of the experiences she provides for her clients cost somewhere in "the upper hundreds of thousands of dollars."
While many of McIntyre's clients come from overseas, a good portion are flying in from Columbus, Ohio, she said.
"Columbus is, unbeknownst to most people, a huge city where there's a lot of huge corporate fashion brands [Abercrombie and DSW and the Limited Brands]," she said.
McIntyre and Sims both said that services such as theirs work for those who don't have the time to arrange the complicated logistics themselves.
"Having all the money in the world doesn't suddenly mean you get a Rolodex on your doorstep," Sims said. "You may not know who to call to get into Ralph Lauren. You may not konw how to get into 1Oak. So they join a company like mine and we know those phone numbers."
One of McIntyre's customers, a co-founder and CTO of a multi-million dollar IT company out of Portland, Ore., described the experience of having McIntyre open doors to the fashion week experience.
"We have always been interested in participating in events surrounding the fashion industry and Fashion Week, but thought you had to be an insider to gain access," said the client, who wished to remain anonymous.
"My wife and I met Rachel through a friend of a friend and she was able to get us access to shows and seats that were only for industry insiders. These were tickets that were not for sale to the public. It was amazing!"
McIntyre said that engaging her clients is a savvy move for the designers.
"I am literally bringing clients and putting them in your hands to build business and build revenue," she said.
"Why is Donna Karan doing meet-and-greets with my clients? Because my clients are spending $40,000 on Donna Karan's clothes."
One of McIntyre's vendors is Seventh House PR, which represents Charlotte Ronson and Alon Livne, among others. Lauren Bochner, who handles special projects for the company, said the designers want to cultivate goodwill with customers, as well as financial benefits, through the meet-and-greets she arranges with McIntyre's clients.
"It's good for the designers because obviously they need money for various projects," she said. "We set up cocktail parties where designers get to meet with [concierge clients] and shop with them … They can build a lifelong clientele from that."
Sims said that publicists often leverage their lesser known designers against the bigger names they also represent.
"We may work with the public relations department of that designer who says 'Look, I'll give you X if you promote Y for me,' she said.
"That agency may look after four designers. One of them's the golden egg that you want, but the other three aren't getting any traction. You say 'Look, help get us some good seats for these people and I'll give you this,' and we go, 'OK!'" he said.
Urban Daddy
Check out more of our press from the media